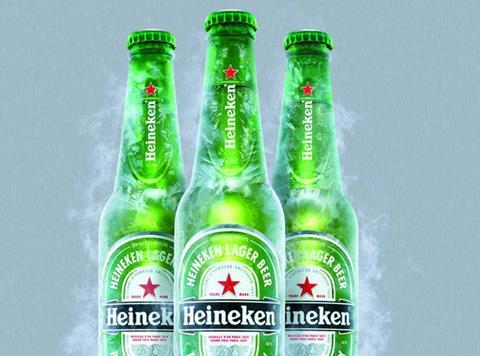 In advance of its major BWS reset this week, Tesco quietly axed more than half of Heineken's beers, lagers and ciders from its shelves.

The retailer insists the Heineken cull was part of its wider booze reset to "better reflect the way customers shop". But it came just a month after the Dutch brewer pushed through wholesale price increases to the on-trade - fuelling speculation the delistings could be the result of a post-Brexit trade dispute.
So is Tesco just getting better at knowing what its customers want? Or were Brexit-related price hikes at the heart of its decision?
This isn't the first time Tesco has delisted a major booze brand. It dumped Carlsberg in 2015 after several years of lacklustre performance that saw retail value sales plummet 29% in the five years leading to the delisting [Nielsen 52 w/e 2 October 2010 v 12 Sept 2015].

Some of the Heineken brands culled by Tesco last month have also been struggling of late. Sol and Tiger - both removed completely from Tesco shelves - suffered off-trade value sales losses of 5.3% and 15.1% respectively last year [Nielsen 52 w/e 8 October 2016]. And while value sales of Heineken's bestselling Foster's lager remained flat at £392.5m, Foster's Gold and Foster's Radler suffered double-digit decline, which would explain why Tesco has ditched them, leaving only Foster's lager multipacks on shelf.

But some of the Heineken brands slashed by Tesco put in an impressive performance in the off-trade last year. Amstel clocked up retail value sales worth £17.2m in its first year in the UK, while Birra Moretti enjoyed a value sales surge of 53.5% to £21.6m in the mults.

Yet both brands have been removed completely from Tesco stores.
Heineken, which lost several SKUs in the cull, enjoyed sales growth of 9.5% last year, while Kronenbourg 1664, now only available in four-packs of 440ml cans in Tesco, was up 16.9%.

Tequila flavoured lager brand Desperados, which saw all SKUs bar one removed from Tesco shelves, enjoyed retail value sales growth of 8.6% last year. And while Bulmer's suffered some big sales losses, the axed Old Mout's Passion Fruit & Apple cider - which was dropped as part of the recent reset - racked up 20.5% value sales growth in 2016.

With Tesco accounting for around 30% of the UK's total off-trade beer and cider market, it would be reasonable to assume the retailer cashed in on the growth of those brands, so they seem an odd target for the reset.

But Tesco is not just looking at overall sales when it makes ranging decisions. It wants to "add value to product fixtures and provide a compelling reason" for people to choose its stores, says John Butler, independent commercial consultant and ex-Tesco category director. Buyers are using data from Dunhumby data to understand exactly which SKUs are important to customers, and which are replaceable, he adds.

"Tesco has used the reset 3 process to prove that its customers don't rate Heineken beer and some related products very highly," he adds. "The Dunnhumby data will also show that the Heineken brand is highly substitutable, the same word they used with Carlsberg."

Tesco's decision to dump some of the bigger multipacks from Heineken brands was certainly in line with its wider BWS reset, which has also seen big multipacks of Magners Original, Harp Lager, Stella Artois lager cans and Strongbow Dark Fruits delisted this year.

Smaller multipacks are now so competitively priced that it no longer makes sense for customers to buy bigger multipacks, says one source.
Heineken's bestselling lager brands
Making way for craft brews
Heineken might also have lost shelf space to make room for more craft brews, which have been a central focus for Tesco. It increased the number of craft beers and lagers in its 402 Tesco Express stores from two to 30 brews before Christmas, while ripping out mainstream variants. And with sales performing "incredibly well", according to a Tesco source, the same thinking is being applied to larger stores.

Indeed, the retailer ramped up its craft beers and cider offer this week, with brands such as Flying Dog, 6 Somewhere, Elk Warning and PistonHead all securing new listings. "Shopper needs do change and a significant part of the rationale behind Tesco's latest range reset will likely be part of its desire to respond quickly to these shifts," says Ashley Anzie, client consultant at Kantar Worldpanel. "An increase in popularity of craft beers could be part of the reason it's cutting bigger brands, to leave room for a wider variety of smaller labels."

However, Tesco has also given more shelf space to Heineken's mainstream rivals. Molson Coors has picked up new listings across its Carling portfolio, while AB InBev has secured space for Budweiser Light, as well as extra listings for Leffe and Stella Artois.

"At Molson Coors we understand and respect that retailers need to constantly review and optimise their range," says a Molson Coors spokesman. "We are constantly working with our customers to ensure their range requirements are met."

AB InBev "frequently reviews its range of products to ensure it is staying ahead of consumer trends" says Mark Winfield Digby, commercial director, AB InBev North Europe (UK & Ireland), with its UK launch of the "iconic" Bud Light brand just one example.

But Heineken has also been extremely innovative this year, launching new craft beer brand Maltsmiths, two 'artisanal' ciders under its Bulmers brand, a 7% Desperados variant and a zero-alcohol lager so far this year. Of these, only the zero-lager - Heineken 0.0% - picked up new listings in Tesco.
Heineken cost rebuff?
Tesco's brutal treatment of Heineken during this reset does suggest something else is going on - particularly as it came so soon after Heineken announced on-trade price increases.

Heineken has refused to comment on "commercial relationships with customers", but a senior industry source claims the brewer was attempting to push through some "pretty outrageous" cost price increases and trying to justify them with the post-Brexit exchange rate.

"The Tesco buyer got lucky that they were going through reset 3 at the same time as they had a supplier asking for more money," he says.

SocGen analyst Andrew Holland, who reported on Heineken head of investor relations Sonya Ghobrial's "fireside chat" at a conference this week, also said the move "was prompted by Heineken's attempt to recover higher costs post the drop in sterling".

If Tesco was willing to lose a brand like Marmite during its row with Unilever over price increases, it arguably wouldn't think twice about replacing one lager brand for another, no matter how well it was performing, particularly if it had data proving that brand was highly substitutable.

What is certain is that it will be a tough year ahead for the Dutch brewer. SocGen estimates 0.5% of its group sales will be lost, but that still adds up to big money. The axing of Amstel, Sol, Tiger, Birra Moretti, and Foster's Radler and Gold alone could amount to over £60m. And with Heineken's top three lager brands now significantly diminished in Tesco, it's likely to face a much bigger sales loss than that.