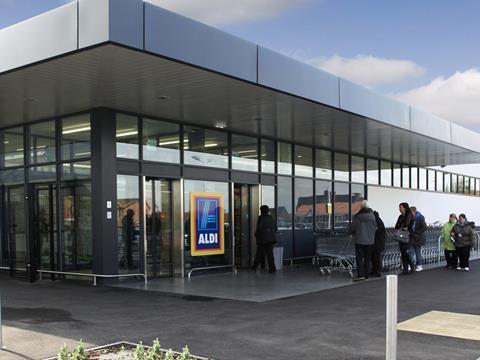 We know its sales are growing, but last week Aldi revealed plans for its biggest-ever store on the site of the soon to be demolished old Malt Kiln building in Lincolnshire. And what was even more notable than the site was its size: relative to the previously rigid Aldi model (a 16,500 sq ft store with a sales floor of exactly 10,000 sq ft) it's a whopper at 19,000 sq ft. So are bigger stores the future for Aldi? Will chief rival Lidl be doing the same? And what does the planning pipeline reveal about the discounters' wider plans to expand their respective estates?
It's obvious to anyone with an eye on Kantar Worldpanel numbers that the rigid store template has served the discounters well. Yet it was equally obvious while visiting a classic 10,000 sq ft Aldi store last weekend that it's no longer serving them well enough. Although the place was rammed with Aldi converts, space - in store and in the car park - was at a premium.
It's why the new store size is the future template for new builds, according to property director Mark Taylor, who believes the extra few thousand sq ft will enable Aldi to display its products in "a more consumer-friendly way."
It's been on the cards for a while. Back in June 2013, speaking to The Grocer about the challenges so many new customers were presenting, Aldi CEO Matthew Barnes said: "If and when 10,000 sq ft isn't big enough we would consider going bigger."
That time has now come. While Aldi has been snapping up former Co-op stores, specific plans about store numbers are harder to come by, with Aldi remaining tight-lipped on the detail. However, limited information can be found in its ­company statements.
In 2011, Aldi opened 29 stores and pledged to spend £181m over the next two years on launching a further 40 stores.
"That programme was easily surpassed in 2013 when Aldi opened 42 stores," says Glenigan economics director Alan Wilen. "It also plans to double its UK estate to 1,000 stores by 2021 by opening between 350 and 455 new premises, opening between 50 and 65 stores a year over that period. Another 65 stores are due to open by 2015 to take the UK estate above 600 stores."
Regional strategy
To double in size means around 400 stores need to be built between 2016 and 2021, and data from the planning pipeline shows Aldi is speeding up.
"In 2013/14, the number of stores proposed by Aldi rose by 48%, while the number of projects starting on site rose by 46%," adds Wilen. "Regionally, Aldi is making a big push in the North West. In 2013/14, a quarter of Aldi stores proposed and started on site were in this region. In contrast, there is extremely limited activity by Aldi in Wales and none in Northern Ireland. Aldi projects starting on site in the South East have also been limited."
Having said that, it was revealed last week that Aldi had secured two new sites in London, directly opposite two Sainsbury's superstores. "We are delighted to have secured such strong retail locations in London, where we see so much potential for growth for Aldi," said Cormac McNabb, director at agency Stripe Street.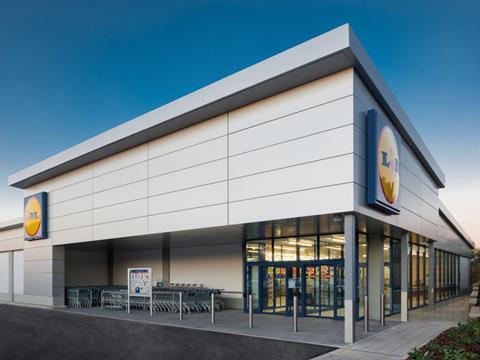 Step change
So what of rival discounter Lidl? Like Aldi it plans to double in size, setting out a "long-term vision" of 1,500 stores in 2013 (The Grocer, 29 November). However, unlike Aldi it put no target date on its dream estate and has focused on revamping or extending existing stores over the past two years, rather than building new ones. So what is in the pipeline?
"A step change," says Wilen. "The value of Lidl schemes starting on site in 2013/14 ballooned by 73% and this growth is likely to continue. After a drop-off in 2012/13, the value of Lidl projects entering the planning system has surged over the past year, and is two-thirds larger than during 2010/11, which illustrates the amount of work the group is planning."
According to Lidl's own figures, as of November 2014 its average store size was 11,442 sq ft, so the cost of the average Lidl store to start on site in 2013/14 was in the region of £3.2m. However, while Aldi stores appear to be getting bigger, the average Lidl project entering the planning system in 2013/14 is valued at £1.9m, indicating it is targeting smaller stores. And based on Lidl spending in 2013/14, the largest proportion of spending is aimed at expanding in the South East.
"If Lidl is heading south the only way is through smaller stores," says Paul Langston, consulting partner at CACI. "Our evidence shows huge opportunities in the South East they are not tapping into. I live near Watford and I haven't got a store anywhere near me, and I would go if there was one in striking distance. And it's the same for a lot of people. In the London 'N' postcode area, we reckon Lidl has a market share of 3% and Aldi just 1% (compared to a national market share of 3.5% and 4.8% respectively).
Flexible friends
Wilen says at Aldi's current rapid rate of progress its portfolio could outstrip Morrisons within the next couple of years. And, if it hits 1,000 stores by its 2021 target, it would be behind only Sainsbury's and Tesco in terms of UK stores.
It sounds unprecedented, but it is realistic, says Steve Rodell, head of retail at Christie & Co. "The plots Aldi and Lidl are after are ageing industrial units and old commercial factories (just like the old Malt Kiln building). And our industry is shot to bits, so there is a lot of that stuff around and they are perfect plots for a nice square box Aldi or Lidl."
Their new-found flexibility will also help them, he adds. "For a long time they had to be new build to exact specifications, but if they want to hit their targets they have to be more flexible. And they are."
However, arguably the biggest reason it could happen is that while supermarkets like Tesco and Morrisons slam on the property brakes (and stick it in reverse), Aldi and Lidl are putting their feet down. "They are out there looking all the time," says Rodell. "And the flyers we see getting sent around are sending out a message saying: 'look how strong we are, we are a landlord's best friend. This is where the grocery market is going, we are growing. You are good with us as a tenant for the next 15 years.'"