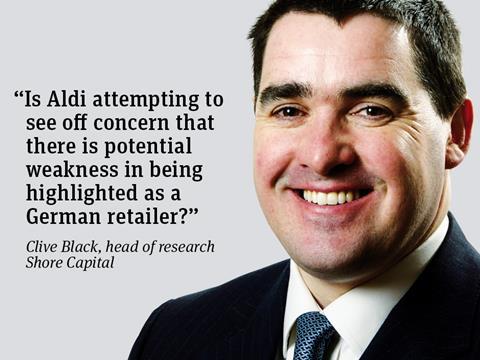 While caught in sluggish traffic on the M6 recently, I had the luxury of comparing and contrasting the liveries of the supermarkets' vehicle fleets. I was awoken out of my bumper-to-bumper slumber by two articulated trucks seeking to go north, emblazoned from one end to the other with the flag of these Isles. Was this a celebration of English apples & pears or part of a livery matched on the other side by the flag of Slovenia signalling a hybrid isoteric international haulage capability? But no. The flag was on lorries carrying goods for Aldi from its distribution centre to stores.
Indeed, these juggernauts were not just emblazoned with the Union flag, they were proclaiming that Aldi is the proud sponsor of British athletics in the Rio Olympics in 2016 (surely methinks Sainsbury's is the custodian of supermarkets supporting British athletics… alas no as, like the BBC and ITV, it can no longer match the dosh of the 'new kids on the block'… such as BT and Sky in football). So Aldi, a LAD (limited assortment discounter), is the sponsor of the British Olympic athletics team, and now this most German of international retailers has a fleet of vehicles kitted out in red, white and blue!
Aldi is most certainly not prone to dishing out dosh willy-nilly, albeit alongside Lidl it is now a very important advertiser, again taking advantage of the big four's forced parsimony. So is what we see here a group that is perhaps attempting to see off at first base a concern that (in a country, particularly England, that is more patriotic and maybe nationalist, especially after the Scottish referendum and the UK general election) there is a potential weakness in being highlighted as a German retailer? That got me wondering if Aldi will use Union Jack-liveried vehicles in Scotland and Wales.
Correspondingly, will Aldi's front-foot action lead to other supermarkets, with perhaps more authentic British provenance (ie they are not German domiciles), seek to regain the flag on behalf of the nation of shopkeepers? There again, maybe this is all nonsense and Aldi has simply fallen in love with British athletics, which are seemingly much more successful than their German counterparts.