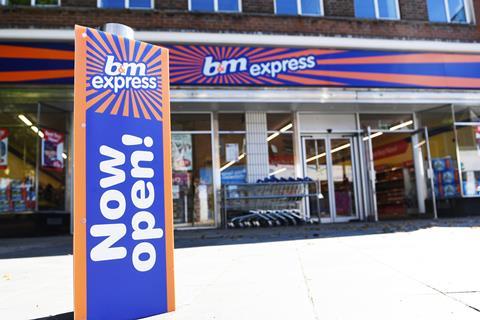 B&M has revealed ambitious expansion plans for Heron Foods.

The value retailer has said it sees an opportunity to grow the estate to 'multiple' times its current size of 281 stores by expanding beyond the north of England into other UK regions.

B&M acquired Heron Foods for £152m in 2017. A number of the stores have since been converted to the new 'B&M Express' fascia, which is expected to be used for expansion into the south.

The discounter is also considering rolling out Heron into B&M stores, creating a frozen food-meets-general merchandise proposition similar to Iceland in The Range.

'Our Heron Foods convenience store chain business, with 281 stores, has the capacity to become multiple times larger as we look to roll it out in the future beyond the north of England, where most of those stores are located, into other regions across the UK,' said B&M's annual shareholder report, published yesterday (18 June).

A new southern distribution centre in Bedford was on course to become operational from January next year, the report said.
That will be followed by a decision on whether to roll out frozen food outlets into B&M stores, under plans revealed separately in a financial results presentation in May.

It said the decision was on hold 'until Bedford is operational, at which time we will evaluate the return on space of general merchandise vs chilled/frozen'. A net 16 new Heron Foods stores opened in the full year to 31 March. The plan for this financial year is 20 more, along with 54 B&Ms.

"The opportunity to expand B&M's UK store network, both in heartland areas and in areas where we have few or no stores, remains large," said B&M CEO Simon Arora in today's report.

"Our 950-store target for the UK, excluding Heron Foods and B&M Express, gives us years of growth runway at current rates of expansion."

Iceland formed a strategic alliance with The Range last August and had opened in nine of the home and garden chain's stores by the end of March.