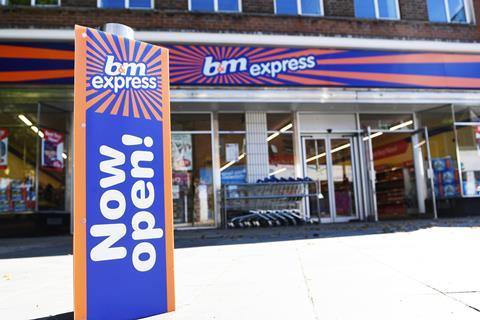 Nearly all new Heron Foods stores are opening under the B&M Express banner, according to a source with knowledge of the thinking behind the move.
B&M began adding 'Express' to its name to rebrand Heron Foods stores last year and is now using it as the default banner for new stores as the frozen food chain enters new towns and cities.

The new name is favoured because B&M sees its own brand as already trusted in areas where Heron Foods has not previously traded, The Grocer understands.

An exception is made where a new branch is located very close to a B&M store, to avoid customer confusion about location.

"Most of the new stores are opening as B&M Express unless they are within a mile of a B&M store," said the source.

"The B&M Express brand is being used predominantly in newly expanding areas where we haven't traded before, so in essence people already trust the B&M name.

"It's also being used in established areas as a control, to see if it makes a difference."
B&M acquired Heron Foods for £152m in 2017 and began converting stores to its own brand last summer. Around 30 are now trading as B&M Express, including many of Heron Foods' net 16 new stores to have opened in the full year to 31 March.

B&M's recent annual shareholder report revealed ambitions to grow the frozen food chain to multiple times its current size by expanding into new regions.

"Our Heron Foods convenience store chain business, with 281 stores, has the capacity to become multiple times larger as we look to roll it out in the future beyond the north of England, where most of those stores are located, into other regions across the UK," the report said.

B&M did not provide a comment on the plans for B&M Express.

Stores to have opened recently under the banner include one in Shirehampton, Bristol, and Ramsey, Cambridgeshire.