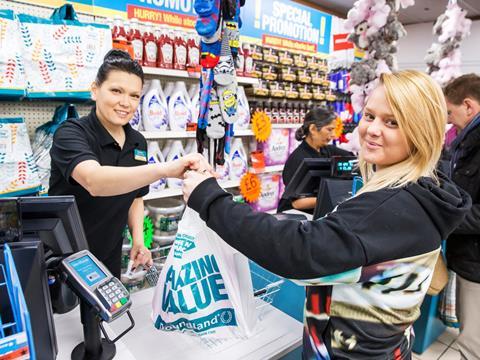 Sales at variety discount stores such as Poundland, B&M and Home Bargains have soared by 17% to £4.9bn in the past year.

The latest Nielsen retail performance figures show over 2.2 million households bought from a bargain store for the first time during the last year, equating to 78% of all British households. Nielsen said the figures showed these bargain stores had become more popular than Aldi and Lidl, visited by 75% of households. More than half (52%) of British households purchased from Poundland alone.

The research also covered 99p Stores, Poundworld, B&M, Home Bargains and Poundstretcher.

Rising spend had been driven by "the huge rise in first-time visitors and, more importantly from a long-term perspective, shoppers buying a larger repertoire of products from bargain stores - some of which they previously bought from mainstream retailers", said Nielsen UK head of retailer and business insight Mike Watkins.

Household, packaged grocery, confectionery and health & beauty are the most popular products, accounting for 63% of bargain store grocery sales. However, fruit & veg has seen the biggest rise in popularity in terms of number of shoppers and frequency of purchase, albeit from a small base.

The bad news for the traditional grocery retailers is that about 31% of the increased annual amount Britons spent at bargain stores came from people shifting spend away from supermarkets and health & beauty retailers. The big four are the most affected by the movement of consumers, accounting for 73% of spend shifted away towards bargain stores.