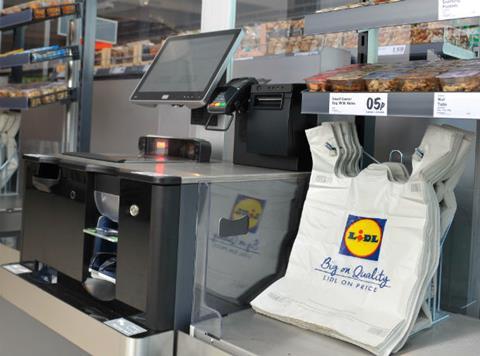 Discounters will achieve the biggest cash gains in UK grocery sales by 2023 while online will remain the fastest-growing channel, according to IGD forecasts. Discounters will see 36.7% growth over the next five years and online 52.4%, compared with 14.8% across all channels, the data suggests.

Convenience will grow 17.6%, supermarkets 7.7% and hypermarkets 1.4%, according to the research. 'Other retailers', including specialist food shops, newsagents and street markets, are forecast to be the only area to see decline, of 3.5%.

The forecast will take sales of discounters including Lidl, Aldi and grocery ranges of variety retailers from £23.1bn to £31.5bn.

Online sales will rise from £11.4bn to £17.3bn.

Discounter growth will be driven by new store openings and upgrades to existing stores including new ranges and formats, according to the IGD.

"Food discounters are benefiting from targeted investment in key categories such as fresh produce, meat and bakery, along with improvements to the in-store environment and facilities, making stores much more comparable to supermarkets," said IGD's director of insight Simon Wainwright.

"Variety discounters will see strong growth from investment in more store openings, but we will see this balance out with closures elsewhere," he added. "Opportunities for these retailers lie in developing the food-for-now and impulse grocery offers, taking a more flexible approach to formats, offering more unique and exciting products, and delivering compelling seasonal events."
Smaller and newer retailers will drive online growth, while more established players will refine their use of web analytics to improve and personalise shopper experience, according to the report. More rapid and flexible fulfilment options including click & collect from lockers are also forecast to push growth.

"Growth is increasingly being driven by recent entrants to the channel and more delivery options," said Wainwright. "But we're seeing more ambition from the big four as well, making ordering easier, improving picking, new capacity and faster deliveries."

Convenience will deliver the second-biggest gain in sales, from £40.1bn to £47.2bn, as it meets growing demand for smaller and more frequent shopping trips, the IGD said.