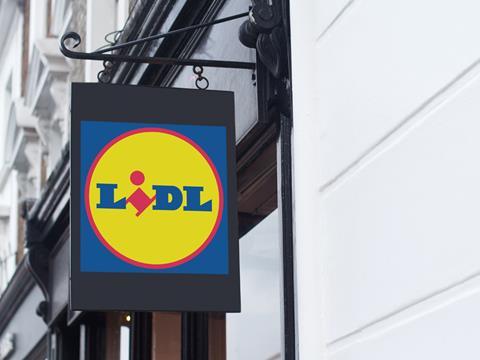 Here's to another collective panic attack for the hospitality industry! According to national news reports, Lidl could be planning its own entry into the pub (or restaurant) sector.
As if the trade's beleaguered execs didn't have enough on their plates to deal with, what with the living wage, soaring ingredient costs and a mounting staffing crisis. Now, it seems, they might have to contend with the prospect of competing with one of the two retailers widely credited with turning grocery completely on its head over the past decade – on their turf.
Let's step back for a second. Admittedly, all we know so far is that Lidl has submitted a planning application for a new hospitality concept on the site of an old pub in Dublin. An application lodged with South Dublin County Council reveals the "development includes four retail units (adaptable for a variety of commercial uses) and a public house". In a statement given to RSVP Live, the Irish news source that appears to have broken the story, Lidl has confirmed no more than that "there will be a hospitality unit on site". A spokeswoman – somewhat mysteriously – tells The Grocer: "The design team are reviewing options and once a design is finalised it will be submitted to South Dublin County Council."
Thus it seems whatever the discounter is working on is still in the embryonic stage. And strictly under wraps… for the moment.
Yet the news comes as the boundaries between retail and hospitality are becoming increasingly blurred. And in the majority of cases it is the retailers who are leading the charge – to great success, in some cases. Take Waitrose's supper clubs and sushi counters, for example. Then there are Sainsbury's Zizzi counters, or Spar franchisee Paul Stone's Cheeky Coffee Co spin-off. Given the reputation Lidl has steadily built for quality food and booze at a bargain price over the past decade, it's not unreasonable to suggest it could make a serious dent.
It would only have to look to the rampant successes of JD Wetherspoon for inspiration. Tim Martin's business has, in many ways, had a somewhat similar effect on the hospitality sector as the discounters have on retail – though perhaps to a slightly lesser degree. As an ex-pub journalist, I was always amazed to see the effect the opening of a Wetherspoon would have on competing local outlets. A senior exec at a large value pub chain once confessed to me that, were Martin to open a Wetherspoon within walking distance of one of theirs, it could take a chunk out of that site's turnover big enough to potentially close it within a matter of months.
Now imagine what a business with the buying and pricing power of Lidl could do. The mind boggles. Although obviously there would be a limit to how cheaply this discounter/pub hybrid could actually sell its wares. After all, pubs are subject to far higher VAT on food and drink than the supermarkets – a fact Wetherspoon itself regularly complains about, holding a 'Tax Equality Day' when it slashes the price of all food and drink across its sites by 7.5%, every year, to highlight the potential benefits of a tax cut to the on-trade.
This is all, to an extent, speculation. And it's important to bear in mind that the current planning application doesn't indicate that this will be a standalone hospitality business. Perhaps more of a convenient add-on to a traditional store – a diversification of the Lidl offer rather than a new business model.
But the key message to take from this is that massive disruption in the hospitality industry is still possible despite that sector's mounting woes. In fact, plummeting consumer confidence has seen hospitality businesses that pride value above all else, such as Nando's, reap serious rewards. There's no reason why retailers who've cultivated that same kind of reputation (and backed it up with a unique product offer) shouldn't be able to replicate that success in the on-trade. And right now, the discounters are ideally placed.
It will be some time before whatever exactly Lidl is working on comes to fruition. Indeed, it has said nothing will be complete until next spring. There's no doubt many across retail and hospitality will be watching closely until then.