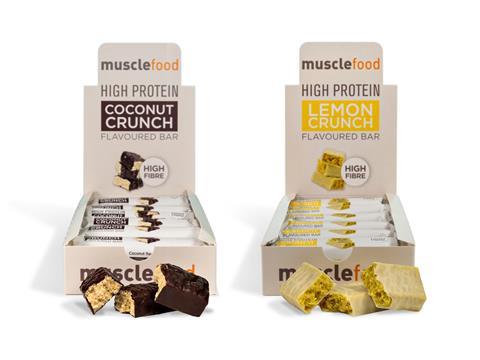 Muscle Food is bringing four new snacks to the high street through Poundland.

The online health food retailer is adding to 11 products already sold through Poundland with two new 21g protein shakes, one chocolate and one strawberry flavoured, and two protein flapjacks, one peanut butter and the other chocolate topped.

The SKUs will be introduced in 850 Poundland branches during April.

Muscle Food said it was working on a further 15 products to launch in Poundland later this year, having begun supplying the variety discounter seven months ago.

Items already stocked include protein bars and crisps and 15g shakes. Poundland also sells some of the products online through its website.

"Since launch the protein bars and shakes have been popular with Poundland customers looking to make healthier choices and for those fitness fans who want to increase the protein they're consuming," said Muscle Food's commercial director Nick Preston. "Being on the high street and working with such a well-known retailer helps us to reach thousands of new customers. It shows them that healthy living isn't about eating boring, tasteless food, and that you can still enjoy your favourite treats without the guilt."

Earlier this year Muscle Food, valued at £50 million, received a £10 million investment from BGF to grow its core UK offering and support its expansion into Europe.

The company has secured new listings in 400 Morrisons stores since the investment with a protein pizza range.

The same range was launched in 250 Sainsbury's branches late last year and talks are under way to introduce snacks and ready meals through the supermarket, a Muscle Food spokeswoman said.