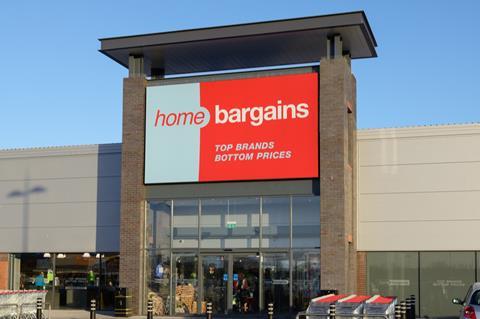 Home Bargains has become the 13th retailer to be policed by Groceries Code Adjudicator Christine Tacon after losing a battle with competition bosses over whether it deserved to fall under GSCOP.

TJ Morris, which operates more than 400 stores in the UK under the Home Bargains banner, fought against the moves by the Competition & Markets Authority (CMA), it emerged today, but failed to convince regulators it operated in a different way to supermarkets.

The CMA said it had decided it was "appropriate" the company was designated to ensure it did not "abuse" its commercial power, and acted after the company breached the £1bn threshold used as a cut-off for GCA inclusion.

It found the retailer received around half its total turnover from grocery sales, dealing with a wide range of suppliers, often on a one-off contractual basis.

The CMA said TJ Morris had branded the turnover threshold "somewhat arbitrary".

"Bearing in mind the arbitrary nature of the £1bn threshold, and the passage of time, TJM are of the view that the CMA should have reviewed and considered whether the £1bn threshold remained appropriate in the last 10 years," it told the body.

"As far as we know, the CMA has not undertaken any such review. On an inflation basis alone, the £1bn threshold should be £1,295,896,000."

The company also argued it did not consider itself a limited assortment discounter and instead saw itself as a 'general merchandiser operating in the value sub-market'.

That meant, it argued, it was unlikely it would seek marketing costs, lump sums or positioning payments from suppliers, or have the ability to delist them.

TJ Morris also argued it did not run promotions like grocery retailers, or create joint business plans, and said its business did not depend on own-label sales, which only accounted for a small part of its revenue.

However, the CMA said Home Bargains "represents a generally small but sometimes significant proportion of the sales of its suppliers".

It added: "In some cases, it is purchasing items which may have limited appeal to other grocery retailers. In such cases, suppliers may be expected to have fewer alternatives, and in this area in particular, TJ Morris may be expected to have buyer power over some of its suppliers, and may be able to exercise this to the detriment of competition and consumers.

"TJ Morris may not have or be able to exercise buyer power over some of its suppliers, but this does not mean that there are not some suppliers of groceries over which it could exert buyer power in a way that could damage competition and consumer interests."

Earlier this year, B&M Stores, which along with Ocado was added to the list of GSCOP designated retailers last November, dropped legal action to try to escape jurisdiction.

It subsequently finished bottom of the Adjudicator's YouGov poll of supplier behaviour, published in June.

The CMA's move also comes amid controversy over which retailers should be policed by Tacon, who is in her last year in the role.

Last week The Grocer reported major fmcg suppliers were calling for action because Amazon and high street chemist Boots had been fining them up to £100,000 a year, in ways which would be outlawed if they came under the jurisdiction of Tacon.

Unlike Home Bargains, some are now calling for the £1bn threshold to be lowered.

A statutory review of the Adjudicator's role conducted by BEIS is due to wind up by the middle of this month.