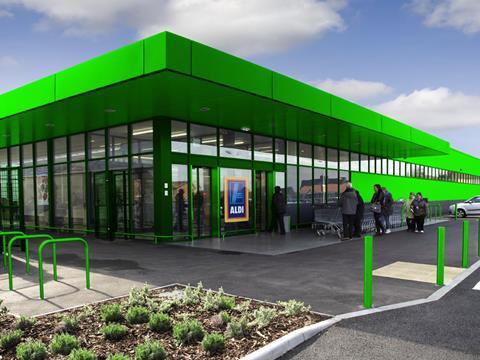 It's 3am. The air is cool and clear and we are standing outside Lidl's flagship store in Chessington with a £25,000 thermal imaging camera because, well, we all know how cheap the discounters are, we know they have been upping quality, but are they eco-friendly?
Not the last time we looked. In the 2011 Green Issue of The Grocer (24 September), according to our panel of experts, the discounters were lagging behind the pack.
Aldi were "decidedly lacking in concrete targets" and "the lack of visibility raises questions about how serious Aldi is." Meanwhile, Lidl was "an entire generation behind the likes of Tesco" when it came to being green with no mention of the environment on its website.
"Our fridge estate is market leading in terms of energy efficiency and leakage rate - no wonder given the massive investment over the last few years"
How times have changed. With their astonishing growth (Aldi and Lidl have seen a 34% increase in customer numbers since 2011, according to Kantar Worldpanel, with 53% of the population shopping in one or other in the 12 weeks to 17 August), "they are on people's radar," says Rob Harrison, co-editor of Ethical Consumer magazine. "I think campaigners will start putting pressure on them in the same way they have done with the bigger competitors as their market share becomes more significant. Campaigners won't ignore them any more and the pressure will increase on them to up their game."
It's already happening, in fact. "Last month when there were all those headlines about Lidl clothing being cheaper than Primark, a whole load of clothing campaigners turned their gaze upon Lidl," he says.
When it comes to food and drink, Ethical Consumer is about to launch a review that will rank all the supermarkets, including the discounters. The results will be revealed in December. And while Harrison swerves any predictions about what the report will reveal - apart from "improvement across food retail generally" - pushed harder, he concedes "it's unlikely the discounters have been doingnothing. But if they are, they aren't telling anyone about it."
"We are maximising our green efficiency, meeting leading global standards for green buildings"

So how should one assess their progress over the past three years? One obvious area of change is in terms of sourcing. Continuing its policy of using predominantly British suppliers (all its meat is Red Tractor based, for example), Aldi introduced a new Freedom Foods-endorsed pork range this spring. And having previously sourced Fairtrade tea, coffee and chocolate, it's currently rolling out Fairtrade roses across its stores.
However, when it comes to operating a grocery store, being green isn't just about sourcing policies.
It's also about saving cold hard cash. "A store using 150KWh of energy a month pays around £180k per year, so a 5% reduction of energy usage will bring a £9k cost saving," says Spencer Rigler, VP energy management at Elster Energy ICT, which provides energy management software to more than 10,000 store locations globally. "A retailer with a 2% operating profit would have to sell over £450k of merchandise to achieve the same effect on the bottom line."
Figures like those explain why, in September 2013, Lidl announced it was splashing out £27m on new chillers for 150 stores. "Our refrigeration estate is considered to be pretty much market leading in terms of energy efficiency and leakage rate," a spokesman told us. "They work almost without any refrigerant leakage, which is a massive contributor to emissions with other supermarkets."
Aldi has also been busy on the shop floor. "In 2013 we installed PV solar cells in 41 stores and three regional distribution centres," says Aldi's joint MD of corporate buying Giles Hurley. "We've also fitted energy efficient LED lights into all our store car parks, fitted our chiller cabinets with energy efficient night blinds and removed under shelf lights in chiller cabinets altogether, significantly reducing energy consumption and saving £400,000 a year. Our refrigerant loss rate in the UK has come down for the third year running."
Hurley adds that "every Aldi store in the UK is supplied with green energy, sourced from 100% renewable sources, and in 2014 Aldi was awarded Carbon Trust accreditation for successfully showing a 27% relative reduction in the company carbon footprint. We know a quality product needs to be made responsibly and with respect for the environment and we will continue to do this in the future."
Thermal imaging shows an open and shut case
To assess how efficient the discounter's stores are in terms of thermal leakage, The Grocer sent in thermal imaging expert Richard Wallace from Ti Thermal Imaging, equipped with a Flir T640 camera and Ti's new Ticor field software, which radically speeds up the production of thermal imaging reports. "Using existing software, the Lidl report would have taken a couple of hours to analyse the data," says Wallace. "Using the new software took me 20 seconds. It's night and day."
Aldi: "They were very good," says Wallace. "The report showed some energy loss from the main entrances, but you always get that. They are double doors, and it's not unusual to see that. There was also a little bit of thermal bridging from the windows, where you get thermal transfer through an uninsulated design detail between the internal and external. There was also some energy loss around the loading bay doors. These are shutter doors, they are not insulated. So overall we thought that it was very good, that it was very continuous, and there were no insulation issues."
Lidl: "Again, this was very good. There was a lot of glass at the front of the store, but it wasn't showing any areas of energy loss. I would have anticipated a little bit more, so that was better than I was expecting. There were some energy losses through the front door, but that is to be expected. Loading bay doors again showed some leakage, but they are roller shutters so they are uninsulated. Overall it was very good and I would imagine it would have passed a stringent air test. Air leakage was minimal."
Overall: "All in all I'd give them both a clean bill of health," says Wallace. "There are a couple of areas they could look at, but overall they were very, very good. I wasn't surprised though. They are discounters, so I think they would work hard to reduce their energy bills to keep costs to a minimum. It seems to me that, particularly with the new Lidl store, it's a very well thought out design to keep energy costs down, because it's a big factor when it comes to operating costs. But it looks to me like both Lidl and Aldi have employed some good practices."
Greener stores
It's a future that is seeing Aldi and Lidl open stores as fast as they can build them. And if they can make these new stores 'green' all the better. Lidl's spokeswoman says all its new stores are fitted with LED lighting to further reduce energy consumption, and the same goes for refurbished stores. Lidl is overhauling around 40 stores every year, which requires a "multi-million" annual budget. "When refurbishing a store, the aim is to bring it back to the same standard as the day it opened," she says. "All innovations, like the new chillers, are fitted into old stores when overhauling them."
Aldi is also hardwiring eco-considerations into stores from the ground up, rather than as an afterthought. "We have a firm commitment to lead global standards for green buildings, working with architects, planners and developers to improve the design of our stores, warehouses and offices," says Hurley. "Aldi's target is to make improvements in all our stores to achieve a long term goal of an A rated EPC.
"When refurbishing a store the aim is to bring it back to the same standard as the day it opened"

As Aldi and Lidl grow, they have also had to expand their supply chains to cope. "We have invested heavily in our delivery fleet to make our network more fuel-efficient, introducing the latest fuel management systems," says Hurley. Its website offers up more detail, adding that Aldi has started using "lighter vehicles with more fuel-efficient tires and improved aerodynamics".
It also says that, where possible, it uses "visiting suppliers to deliver to our stores on their return to reduce empty running" and that it also monitors business travelling and "employee fuel use accurately so we can reduce the impact over time."
At Lidl, MD Ronny Gottschlich likens the way Lidl loads up its lorries to a game of Tetris, because every single pallet is flush with another to maximise available space. "Delivery to stores is very efficient," says a spokeswoman. "Lorries are highly utilised, there are almost no empty spaces. That results in lower costs, as well as lower emissions."
Lidl also bans direct deliveries from suppliers to stores, consolidating everything at an RDC (it has nine) which means less lorries on the road. Earlier this year Lidl also made its lorries longer - by around one metre. In isolation that might not sound like a lot, but a pilot trial with DHL - which has signed a deal with Lidl until 2017 - will see the longer trailers make over 19,500 trips a year, so that single extra metre will reduce the overall distance covered by around 10,000m and lower C02 emissions by 14.5 tonnes.
Green HQ
Back at HQ, Aldi is keeping green issues at the forefront as it splashes out £70m on its headquarters in Atherstone, Warwickshire. "Aldi believes that long-term business success can only be achieved if the company also assumes responsibility for people, nature and the environment and has worked with architects, planners and developers to improve the design of its offices and meet recognised environmental standards," it announced in a statement.
"A 'fabric first' approach to constructing and expanding the buildings will be taken to minimise environmental impact through reduced energy use. Aldi also wants to lower the carbon footprint of its employees by encouraging participation in its "Cycle to Work" scheme and promoting "lift sharing" for car drivers.
Hurley claims Aldi is also making "great strides in minimising waste so we can achieve zero waste to landfill. We recycle close to 100% of our cardboard and packaging. In 2012, donation of non-perishable food waste to charity became standard practice for our business. We are maximising our energy efficiency, meeting leading global standards for green buildings, continuously reducing our carbon footprint and minimising the impact of our refrigerants whilst reducing and recycling our waste."
Not to be outdone Lidl says it sends "zero waste to landfill" and recycles "over 90% of everything". It "closely monitors" energy consumption, has motion detection sensors fitted to lights, sources local produce wherever possible, receives zero fresh produce by air freight, and says not giving away plastic bags for free is a massive difference to its competitors, as "free plastic bags promote wasteful behaviour".
It also saves Lidl money. In the same way that all those efficiencies save Aldi money, too. It's a reward for doing the right thing and it's something the discounter's rivals have been doing for some time. So it's no surprise the discounters have finally caught up.