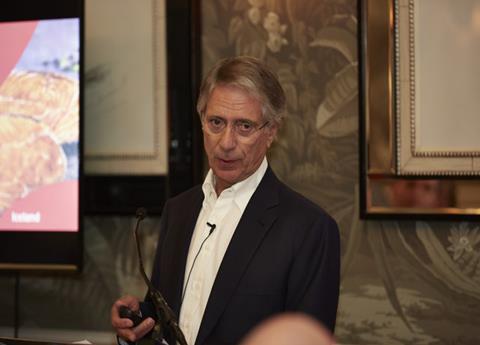 The spirit of independence was alive and well this morning as the great and good from the worlds of wholesale and independent grocery retail came together for the yearly celebration that is The Grocer Annual Lunch.
The event, kindly sponsored by Butterkist and Hi! Street digital media, brings together representatives from the UK's Big 30 wholesalers and the Top 50 independent retailers as well the crème de la crème of the symbol and convenience sector.
This year, we crowned a new number one in our Top 50 independents list – with a turnover of £2.6bn, Iceland beat second-placed Euro Garages by almost exactly £1bn.
Some of you eagled-eyed industry watchers out there may be saying, 'hang on a minute; surely Iceland was already bigger than these other retailers?' And you would be right. Iceland is making its appearance this year as a new entry – thanks to a change in the criteria to qualify for our list.
Where previously retailers needed to be at least 51% management or family owned to be classed as an independent, now our definition is that the management or owning-family hold a controlling stake in the business.
Clearly, it is important to revise criteria as the nature of businesses changes, but our decision has as much to do with recognising Iceland as anything else – as for many years now, Malcolm Walker has comfortably been the UK's most fiercely independent grocery retailer.
Speaking at today's lunch, Walker said he turns down at least 95% of speaking invitations but was keen to appear as it was an audience of independent retailers and he was proud to have topped our table.
Tough trading
He also celebrated his independence by pointing out that, had he been in charge of a public company, he wouldn't have survived some of the tough trading the business has had to come through in recent years. "I've been here for 40 years," he said. "We've had some bad results recently, but I'm still here and things have got better."
Walker summed up what is so impressive about so many of these privately owned and independent businesses. He, like many others, is in it for the long term and is committed to building a sustainable business for the future.
That is not to say independents are standing still, and indeed Walker warned of a "slow slide into obsolescence" that awaits those doing nothing. Iceland is reaping the rewards of a transformational strategy to premiumise its offer, its marketing and its stores. But likewise many other companies on our list have demonstrated real entrepreneurial spirit – take Spar retailer Paul Stones, who has recently embraced Deliveroo and Uber Eats.
As the growth of the German discounters roars on, the major multiples muster a revival and the shadow of Amazon continues to grow, these inspiring wholesalers and retailers are keenly aware that standing still is not an option. They know to succeed in today's tough climate, independents have to be nimbler and more innovative than ever.