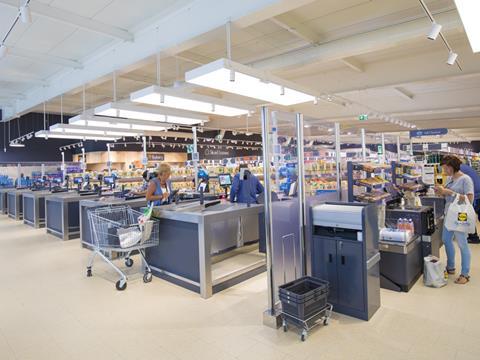 Lidl has revealed ambitious plans to open at least one new Lidl store every week for the next five to 10 years, doubling its rate of expansion.

The discounter opened 55 stores in 2015 and 2016 combined, but UK CEO Christian Härtnagel, who took control nine months ago, believes Lidl can accelerate to open between 50 and 60 stores every year.

"I know the market now, it's very competitive, but we are set up and it's full steam ahead," he told The Grocer. "Fifty per cent of British households have shopped at Lidl in the last 12 months, that leaves 50% to go. We are doing a fantastic job on quality, so the misconception that low prices mean low quality is getting challenged. But they still exist, mainly due to the fact that not everyone has tried us. I am convinced it's because we are not in a convenient location for them."

The 34-year-old has also scrapped Lidl's existing target of reaching 1,500 stores. "Fifty to 60 stores a year is a rate we can see for the future," he said. "If it's 1,500 at the end, or more, or less, I can't comment. But 50 to 60 stores is incredible, faster than we have ever had."

Lidl, which currently has 670 UK stores and 10 distribution centres, plans to build a new DC every year to handle the growth, with Härtnagel describing the right logistics as "vital".
Härtnagel's four-step plan
Store estate : Lidl will expand its 670-strong estate by 50 to 60 a year
Headquarters : A new £70m HQ is due to open in Tolworth in 2020
DCs : Lidl will open a new distribution centre every year, adding to its 10 current DCs
Headcount : A 'huge' recruitment drive is under way. Staff numbers are already up from 18,000 to 20,500
The discounter will also embark on a "huge" recruitment drive, which is already underway. Last year it employed an 2,500 additional people, taking its headcount from 18,000 to 20,500. It also plans to move into a new £70m HQ in 2020, relocating from Wimbledon to Tolworth.

"All this comes at a price," said Härtnagel. "We are going to invest around £650m this financial year and £800m next financial year. That's a record high, it's a huge commitment to the UK market, these are very significant figures. In 2015 we said we would invest £1.5bn over three years, instead we will do that in two. And we will continue to invest at that level as long as we continue to expand to meet market demands."

As well as opening new stores, Härtnagel said Lidl would continue its "ongoing, rolling" refurbishment programme. "We are transforming more and more stores to our Lidl 2.0 layout, which brings our fresh range to the front of the store. Then at the same time you obviously have buildings that need new paint, a new floor or a new ceiling, which we will never be finished with because every store gets older every day."

Last week Lidl was named the fastest growing supermarket in the UK for the first time since March by Kantar.