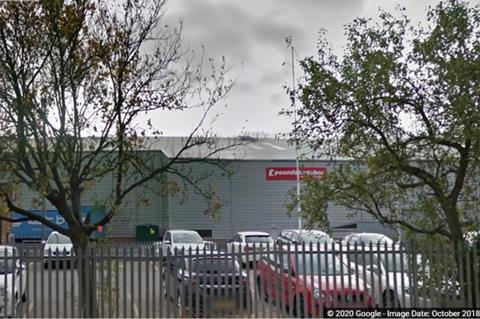 Poundstretcher's distribution centre in Leicestershire suffered a Covid-19 outbreak in which 32 workers tested positive.
The infections, all of which came to light between 5 and 13 July, represent roughly 10% of the workforce at the site.
All the workers at the DC in Kirby Muxloe were tested after a single case emerged, and the other infections came to light as a result, PHE confirmed. Those infected went into self-isolation and all are said to have recovered.
"Public Health England Midlands provided expert advice and support to the Poundstretcher distribution centre in Kirby Muxloe, Leicestershire, following 32 confirmed cases of Covid-19 among staff last month," said a PHE spokeswoman.
The Grocer can also reveal Poundstretcher owner Aziz Tayub was this week questioned by police over an allegation he failed to self-isolate after returning from a trip to Dubai and instead went to work at the Kirby Muxloe facility, which is also Poundstretcher's headquarters.
"At around 8.55pm on Tuesday (4 August) we received a report that a man was not adhering to Covid-19 government regulations," said a Leicestershire Police spokeswoman.
"The incident was reported to have taken place at 9am the same day at a premises in Desford Lane, Kirby Muxloe.
"An officer contacted the man at his home address. He was given words of advice and encouraged to follow the recent government regulations regarding self-isolating."
Poundstretcher did not provide a comment on police speaking to Tayub. A spokeswoman said of the outbreak: "A large number of our workforce live in the postcode areas subjected to the government prolonged lockdown measures.
"We worked very closely with Public Health England and immediately arranged for onsite testing of over 330 of our employees and agency workers.
"We already had in place robust safety control measures detailed within our risk assessment including social distancing, hygiene, disinfectant points, provision of personal protective equipment, face masks, and shields, staff training and instruction, daily temperature checks, and management supervision.
"DHU Health Care carried out the testing on behalf of PHE and were very complimentary regarding the safety measures in place, and the help, support and co-operation given by the company. The company fully supported the track and trace system put in place. Full co-operation was also given to the local council who also confirmed they were satisfied with the safety measures in place."
She added there had been no new cases since 13 July.
The cases at the DC follow a string of Covid outbreaks at food factories, including hundreds of infections at 2 Sisters' Llangefni poultry plant in Anglesey.
Poundstretcher has faced criticism over Covid safety provisions in stores, which remained open in lockdown. Rather than providing checkout screens, the company issued branches with instructions for making their own using old gondola end header boards. In April the company responded, saying stores had handwash, sinks with hot water and soap, gloves and face shields, while hand sanitiser was also being distributed.
The business is in the midst of implementing a CVA rescue plan in which around half its 450-store estate is at risk. Under the terms of the CVA, the fate of 253 stores is dependent on their performance and landlord co-operation in the coming weeks.
The Grocer revealed earlier this month 10 of 23 area managers had been made redundant, along with some buyers and loss prevention staff. One of four regional managers has also gone.