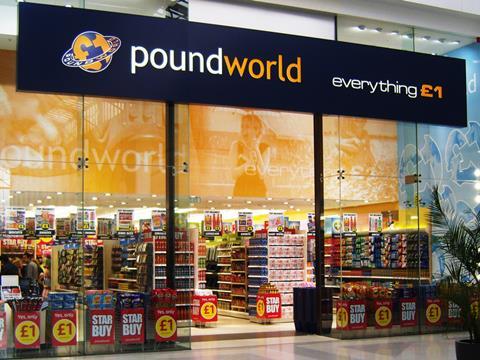 Poundworld plans to close 117 stores by 31 August under the terms of a company voluntary agreement to save the ailing high street chain.

The variety discounter was previously thought to be closing up to 100 of 348 branches, but the exact number and timeline were revealed in a presentation of the CVA seen by The Grocer.

Owner TPG is understood to be proceeding with the rescue plan while also seeking a buyer for Poundworld.

The document details how challenges including the devaluation of the pound have been compounded by a £6m bill to support suppliers following the withdrawal of credit insurance.

Other 'headwinds' include competitor growth, declining high street footfall and escalating costs driven by the national living wage and business rates.

In addition, the retailer experienced a below expectation Christmas trading period in 2017 and faced stock availability issues resulting from the loss of credit insurance for suppliers.

Credit insurance covers suppliers against a retailer collapsing between order and payment and its withdrawal can result in demands for payment upfront.

The presentation, dated May 2018, sets out areas in which a research consultancy has identified Poundworld as underperforming, including customer service, which "especially at tills, is lower than the competition".

It says Poundworld's range has become too multi-priced in some categories, adding that "too many price points create confusion for customers". The retailer has too many products in some categories and not enough in others, it says.

The document sets out a strategy to reverse Poundworld's fortunes including, "Implementing the next phase of its multi-price proposition across all stores" and a cash rescue plan.

On top of £20m additional funding from TPG in February which is "already received and utilised", Santander will provide £15m of investment once the CVA is finalised.

The plan also includes cost savings, with rent reductions sought for the remaining 231 stores.

Forecast sales for 2018 are 3.2% lower than last year, down from £483m to £468m, while EBITDA of £1.4m in 2017 are forecast to decline £16.6m to become a £15.2m loss.

Nevertheless, "Poundworld can have a successful future in the growing discount sector" with the plan in place, the document says.

TPG Capital also owns restaurant chain Prezzo, which announced it was closing 94 branches in March after landlords agreed to a CVA.

"TPG got burned for the amount of cash they put into Prezzo after that CVA and they simply don't want to finish up in the same situation, so that's why they want to sell Poundworld," an industry source told The Grocer.

"It's not that they want to do that instead of the CVA. They just want to make sure they're not on the hook for the cost of the CVA."

The source said other private equity firms were among prospective buyers.

Poundworld declined to comment.