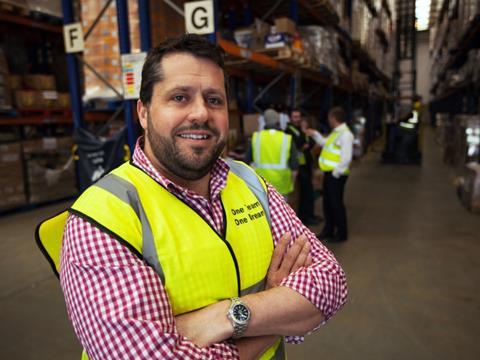 With the likes of Poundland targeting 1,000 UK stores, the business of supplying discounters with everything from cheap soft drinks to short-dated chocolate bars is becoming increasingly lucrative - as specialist Essex wholesaler Rowan International can attest.
Founded in 1986 as Eightacre by former retail buyers Alan Saywell, Alan Littmoden and Paul Tissiman, the business has gone from strength to strength since they bought it back in 2005, having sold it in 2001. The trio have helped to transform the wholesaler, rebranded as Rowan, from a £5m business to a £68m one. Primarily operating in the grey market, with household goods accounting for 50% of trading volume, Rowan now shifts clearance stock for some of Europe's biggest fmcg suppliers. Commercial director James Russell (pictured) estimates 85% of its business involves 'clearance stock' and the sale of £1 lines to independents and fascia discounters such as B&M Bargains and Home Bargains.
"Strategic partnerships are crucial to moving the business to the next level"

James Russell
However, it's the other 15% - exclusive lines sold into the discount channel in strategic partnership with fmcg giants - that excites him. "We want to grow that 15% quite rapidly and a good example is Revlon, which doesn't have a team that deals with the discounters, so we directly sell its Charlie sprays into the discount market. Strategic partnerships are crucial to moving the business on to the next level and away from the ad hoc way the channel was managed in the past."
Rise of the discounters
Rowan is about to announce a multimillion deal to become the exclusive clearance supplier of one of the world's biggest fmcg brands. As part of a £1.3m extension, the wholesaler is also set to add 13,000 sq ft to its Basildon HQ, creating 80% more effective pallet space.
Growing at this sort of pace isn't without its challenges, admits Russell. "If you look at the supermarkets, 55% of Sainsbury's is in own label so that's tough for brands," he says. "Historically, we did all of Britvic's business, but with improved forecasting it saw the opportunity early to supply the tier B retailers itself. Around 20% of the supply last year will go this year, but we are confident that will be replaced by businesses such as Revlon that want to enter the discounters for the first time, so things move full circle."
He cites research suggesting only 15% of people who buy a product in a discounter go on to pay more for the same product in a supermarket. "I think that tells its own story. When opportunities at supermarkets become tough for brands, and they will, the discount market will be the ideal destination and that's where we can help," he says.
And not just in the UK. In October, Rowan appointed its first-ever head of international, ex-Unilever buyer Gordon McCarty. "Almost half our volume is in Europe. We manage European clearance for Reckitt Benckiser and P&G - so we are definitely prepared for the inevitable expansion of the UK discount chains."
It is also prepared for a major growth spurt. "We want to double our sales in the next three years and become a place where suppliers engineer unique branded products for the discount channel," says Russell. "We want Rowan to become the Booker of the discount channel."
Given the exponential growth of the discount channel, that might not be as far-fetched as it sounds.