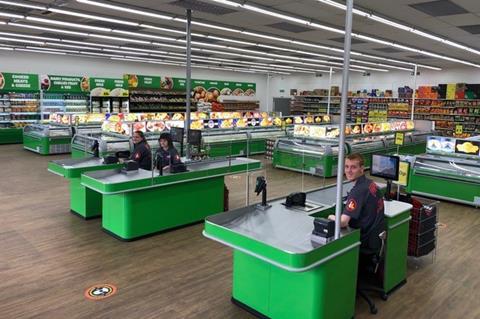 Discounter Oops, which sells surplus frozen food, is getting large quantities of stock from major manufacturers struggling to export to Europe after Brexit.
Oops buys food originally destined for other outlets and repackages it, giving manufacturers and suppliers an alternative route to market without disrupting relations with their existing UK customers. During the pandemic, the business has provided an alternative avenue for foodservice suppliers, as well as those grappling with fluctuating demand from retailers.
Now, food originally destined for Europe is making up 25% of its stock, as major manufacturers and suppliers struggle with Brexit red tape and tariffs, said Oops CEO Noel Davis.
"What we've started to get a lot more now is product that was originally destined for Europe and as a result of Brexit some of these manufacturers are finding it harder to export it and what they don't want to do is cannibalise their existing UK market," Davis told The Grocer.
Examples included "lots of coated fish, lots of coated chicken, lots of pizzas," he said. "They were going all over Europe but predominantly eastern Europe. All we have done is give them an alternative."
Oops launched in autumn last year and has four stores, in Preston, Bolton, St Helens and Warrington.
The business has just agreed terms on a further six sites, in Durham, Newton Aycliffe, Hull, Derby, West Bromwich and Birmingham, all of which are set to open within the next three months, according to Davis.
"Our plan is very simple: open 15 new stores this year and we're hoping by the end of next year to have 50," he added.
The new stores are to be fed by a 100,000 sq ft Birkenhead distribution centre, which Oops acquired earlier this year and is now operational, replacing a 7,000 sq ft unit in Liverpool. Fifteen staff have been recruited for the site already and about another 50 jobs are expected to have been created there by the end of the year, said Davis.
"The new DC gives us the ability to launch a large number of stores," said Davis. "Now that we have everything in place it will be continual growth."