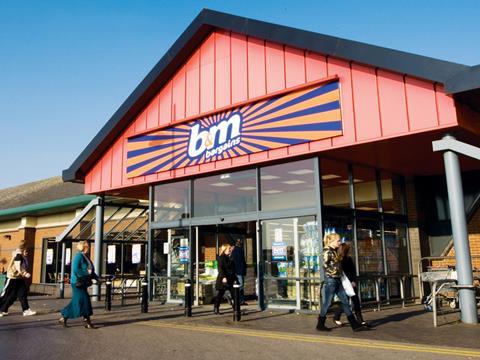 B&M Bargains continues to perform strongly and is now a big player in categories like toys, core grocery, snacking, household and personal care. It talks confidently about its disruptive business model and is due to open 50 new stores this year. How is it achieving this, what can we learn, and how should the rest of the industry respond?
B&M focuses on the thing that matters most to its customers and minimises costs where they are prepared to make sacrifices.
Prices matter to customers, so B&M works very hard to deliver. That means low prices across the board – not always cheapest, but rarely more expensive. It means the odd knockout price – for example, in recent weeks, on Christmas biscuit selections. It means accepting tertiary brands – maybe not Walkers Crisps and Sensations, but plenty of less celebrated PepsiCo snack brands. It means unusually large packs to deliver low price per occasion – 480 Yorkshire Tea bags for £9.99 works out at 2p per bag.
You sense that B&M's buyers are laser-focused on the goal (market-leading value) but are flexible about how they get there. Whatever it takes.
B&M's customers will sacrifice some things, so B&M chooses less expensive locations, less expensive fittings and less disciplined store standards. It isn't a sleek retail experience. It isn't trying to be an Apple store. But it is cheap and cheerful. More cheerful than the typical supermarket shop – less of a chore, and more of a pleasure. It's warm, music is playing and staff are typically friendly. There's some fun in the product range – take a look at the ridiculous pet presents for Christmas it is offering. Asda in its heyday created similar cheer.
What does B&M's success mean for retailers? First, and it sounds obvious, watch B&M carefully. It is not in your scanning data, it is on MySupermarket, but there are 578 stores out there. Second, don't let yourself be embarrassed on price. Third, be patient. If you have only just closed the gap on price, don't expect shoppers to notice overnight. Given time, shoppers will notice.
What does it mean for brands? First, in its core categories, B&M is likely to become more and more important to you, so you'd better keep it front of mind. Second, if you ever thought of it as somehow unconnected from your core business, you mustn't any more. This isn't just about the much talked-about 'read across' of pricing. It's bigger than that.
Over time, the UK will eat the same number of calories and use the same amount of shampoo. If B&M wins, some other customers will almost certainly lose. That's retail. You need to manage the portfolio, be clear about the role each retailer plays for the category and your brands, and engage accordingly.
Jeremy Garlick is partner at Insight Traction