To mark International Women's Day – which this year has the theme 'choose to challenge' – we explore how female entrepreneurs are challenging the industry's big issues through brands, inventions and initiatives
Food waste
Whether it's perfectly good food going into consumers' kitchen bins, or 'imperfect' produce not making it on to shelves in the first place, food waste is one of the industry's most colossal issues. Bake Off winner and TV chef Nadiya Hussain recently put her weight behind the cause when she was announced as the face of Wrap's first Food Waste Action Week. But she's not the only woman putting up a fight.
We are delighted to announce that superstar cook @BegumNadiya is joining our #FoodWasteActionWeek! Nadiya is known across the country as a cook, television presenter and author. Keep your eyes peeled – only two days to go! 🌍 pic.twitter.com/yT9jRRN1d6

— Love Food Hate Waste (@LFHW_UK) February 27, 2021
Take Rubies in the Rubble. The startup's journey began in 2010 when founder Jenny Costa began researching food waste – a topic she says "no one was talking about" at the time. It was then visiting wholesale fruit & veg markets and seeing produce thrown away "by the pallet" that triggered Costa's decision to start the brand.
"When you see that scale yourself rather than just hearing a number, it really hits home," says Costa. "The fact that we were openly wasting food and not seeing it as an environmental concern, I couldn't believe it. I wanted to create a fun brand that was a tasty solution to food waste, that raised awareness through the product as well."
Costa describes her range of condiments – which features relishes, mayo and ketchup made from ingredients that would have gone to waste – not only as a practical solution but also "a reminder in your cupboard" for consumers.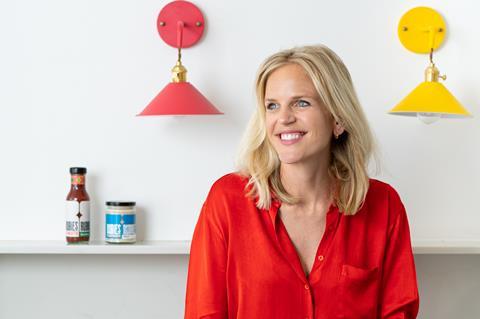 "Part of change is education and we hope that all of our products help educate the consumer as well, to use up their leftovers, use their freezer well and see food as a precious resource with a huge carbon footprint behind it."
So far the brand has saved upwards of 126,000kg of fruit & veg and more than 225,000kg of CO2 emissions, and was registered as a B Corp last year.
Also challenging household food waste is Mimica Touch, a temperature-sensitive freshness label invented by Solveiga Pakštaitė. The invention is a response to the fact that 60% of food wasted in the UK is still edible, and aims to stop consumers relying on best before dates and discarding perfectly good food. The label, which first appeared on dairy products but is set to be extended to juice and red meat, is smooth to the touch when food is good to eat and turns bumpy when it's no longer safe. It also helps consumers to store food at the right temperature, therefore prolonging its life.
View this post on Instagram
Allergens
Five years after the tragic death of teenager Natasha Ednan-Laperouse, mandatory allergen labelling – aka Natasha's Law – is set to come into place in October this year. The new laws require the addition of full ingredient and allergen information to the the labels of pre-packed for direct sale foods, such as on-the-go sandwiches.
It's a subject close to the heart of Julianne Ponan, the owner and CEO of free-from brand Creative Nature. As a sufferer of severe allergies and anaphylaxis, she has had her fair shaire of struggles when it comes to convenience food.
"I was fed up of never being able to consider having 'food on the go' because I could not trust products on the market – couldn't trust that they'd be safe or that they would actually be tasty", she says. "I wanted to change that."
Ponan began challenging the free-from market in 2012, launching a range of snacks and baking mixes that are free from the top 14 allergens – and "delicious" too. Then as the brand grew, the entrepreneur – who was recognised in The Grocer's Top New Talent awards in 2018 and Forbes' 30 Under 30 list a year later – began using her platform to tackle the "inequalities" faced by consumers in her position.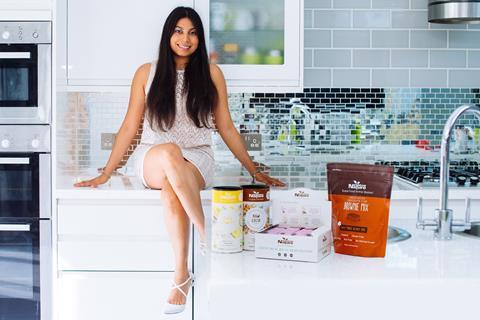 "It's not just about delicious food choices, it's about not being treated differently", says Ponan. "It's about empowering us to live well with our allergies by having clear and trustworthy labelling on all foods, and it's about educating those around us that their food choices could actually impact us."
Today Ponan is an ambassador for both the Anaphylaxis Campaign and the Teal App – a 'personal allergy assistant' for those living with allergies – and next on her agenda is a campaign about allergens in hospital food.
View this post on Instagram
"We need to move away from the view that those with allergies are in the minority so we have to look out for ourselves", she says. "Allergies are on the rise globally, particularly among children. There will be more people like me in the future and we are entitled to the same consideration as anyone else."
And she's not alone in creating a more inclusive world for the next generation of allergen sufferers – and their parents. Kari Sherman founded her brand Tom Pom Organic following the birth of her son Tommy, who was born with several food allergies.
"I struggled to find prepared food that he was able to eat and, with little sleep, it was hard to prepare anything from scratch," says Sherman.
"I knew there were other parents in the same position, so set out with my partner Andy, who's a GP, to research and innovate a new range of babyfood."
The brand offers a range of meals and purées in frozen rings, which offer families a "healthy, allergy-friendly, convenient option at mealtimes".
For allergen sufferers on the go, there are food testing technologies on offer such as Nima – co-created by Shireen Yates and Scott Sundvor – and Allergy Amulet, which is set to launch this year. The invention of anaphylaxis sufferer Abigail Barnes, Allergy Amulet is a discreet, portable device available as a keyring, necklace or wristband, which tests morsels of food for traces of peanut and soy and gives results in minutes.
View this post on Instagram
Plastic
The war on plastic is raging on in fmcg. And for many eco-conscious shoppers, this means drastically changing their purchasing habits. As Bray Leino's 2020 Food & Drink Report tells us, 56% of consumers say they are seriously changing their behaviour around buying products with non-recyclable packaging.
This could account for the rise of refilling. According to the report, 22% of people are using refill shops always or most of the time, and this number is expected to grow as the stores become "increasingly visible".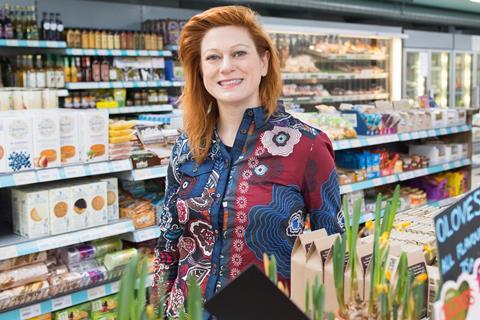 One such store is Brighton's Hisbe, which was opened by sisters Amy and Ruth Anslow and co-founder Jack Simmonds in 2013. The pioneering 'ethical supermarket' opened its second site in Worthing last year, while another new refill store, Earthly Matters, was opened in London's Carnaby last month by founder Audrey Kelly.
Female entrepreneurs are also leading the charge in refillable household products. DTC service Smol – which offers plastic-free dishwasher and laundry tablets and refills of cleaning spray and fabric conditioner – was set up by ex-Unilever marketing director Paula Quazi and co-founder Nick Green in 2018.
Also in DTC is Mahira Kalim's brand Spruce, which offers non-toxic cleaning products and reusable spray bottles. A pending B Corp, Spruce not only slashes single-use plastic but carbon emissions too, as its concentrated refill sachets mean it doesn't ship water.
This is also a selling point for all-female business Milly & Sissy, which offers concentrated healthcare products such as shampoo, conditioner and hand soap in compostable packaging.
"Because we are transporting the products in sachets and water is added at home, there are huge savings on transport carbon emissions," says Camilla Gaillardin, who co-founded the brand with her sister, Andrea Farrelly.
As well as being plastic-free and zero waste, the products – which are also made by a female developer – are vegan, cruelty-free, 99% natural and allergen-free.
View this post on Instagram
"We're challenging the norm in sustainability in so many ways," says Gaillardin. "An enormous point of difference for us is the fact that we tick so many of the eco-friendly boxes. There aren't many products that really do cover all of those points."
Despite launching just before the pandemic hit, Milly & Sissy already has products stocked in Selfridges, Holland & Barrett and online eco stores and is currently in talks with other major retailers. Gaillardin hopes that the rise of brands like hers will lead to a much-needed "shift in mindset" at the supermarkets, which she believes are "very concerned about maintaining the status quo".
"There's a high level of awareness out there and the supermarkets should be making that extra push to reflect that in their offer," she says.
"What we'd like to see them do is support smaller brands that are doing much more in the way of sustainability and help them to communicate to consumers as well."
Health
After the pandemic once again laid bare the dangers of being overweight or obese, with prime minister Boris Johnson himself admitting his struggle with the virus was exacerbated by his size, the government has ramped up its efforts on obesity. Its new incentives-based scheme will offer financial rewards for healthy behaviour and put a focus on healthier lifestyles.
For some, a healthier lifestyle means cutting back on alcohol. This year's Dry January was 'the biggest ever' according to Alcohol Change, with 6.5 million people taking part. But helping consumers stick to sobriety means offering products they actually want to drink, says Ellie Webb, founder of alcohol-free spirit brand Caleño.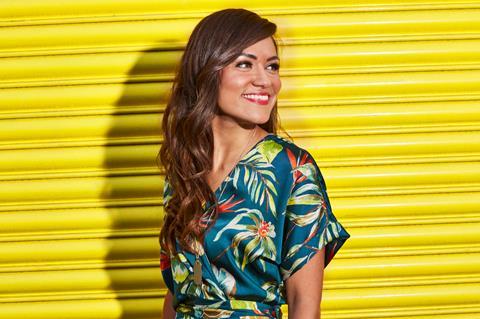 "When I was out with friends during Dry January four years ago, I found myself in a situation where I was ordering a drink I didn't really want to be having," says Webb. "The options felt bland and unexciting and didn't really represent what I wanted.
"Going through the experience of my first Dry January made me realise there weren't really any brands out there making 'not drinking' an enjoyable experience", she adds.
The brand is now "committed to creating more moments of joy" for dry drinkers with its range of "vibrant", "tropical" drinks, which are also low calorie and zero sugar.
Speaking of the sweet stuff, this year saw the debut of the 'UK's only no added sugar online store', launched by vegan snacking brand Squirrel Sisters.
Founders Gracie and Sophie Tyrrell say that while there were other retailers specialising in low and no sugar products, theirs was the first site to guarantee that every item contains no added sugar.
Another brand making a difference in healthy snacking is Chika's. The brainchild of English-Nigerian entrepreneur Chika Russell, the brand recently expanded with listings in Amazon and Ocado and is currently on trial in Sainsbury's.
View this post on Instagram
Not only does the business offer vegan, gluten-free and lower-calorie snacking options such as rice crisps, plantain crisps and nut mixes, but it's also 'on a mission' to educate 38,000 girls by 2025.
Inspired by her childhood friend Iffy, who was denied an education in Nigeria as she was female, Russell now helps girls across Africa by donating 1p per packet sold to World Vision's Empowering Girls Education Program.