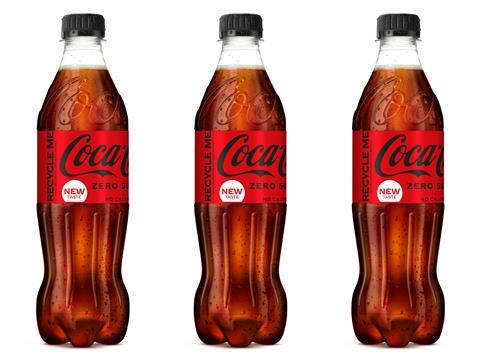 Coca-Cola has announced it is moving to 100% recycled plastic across its entire on-the-go range in Great Britain, in what it claimed was a "significant milestone" in the war on plastic.
Coca-Cola Great Britain and Coca-Cola Europacific partners announced the move, which will apply to all on-the-go bottles of 500ml or less.
The rollout will mean Coca-Cola Great Britain will increase the amount of recycled plastic material in smaller bottles from 50% to 100%.
It covers its entire portfolio of products including Coca-Cola Original Zero, Diet Coke and brands such as Fanta, Sprite and Lilt.
Coca-Cola said it was now saving nearly 29,000 tonnes of virgin plastic every year.
It said today's announcement would also be a major help to the launch of DRS across the UK, by encouraging more people to recycle their products in a closed loop.
"Increasing the amount of recycled plastic we use is a critical point in our sustainable packaging journey," said CCEP GB general manager Stephen Moorhouse.
"Reaching 100% rPET puts us one step closer to achieving our ambition of a world without waste – collecting and recycling a bottle or can for everyone that we sell by 2025."
"I am delighted to see Coca-Cola Great Britain taking this significant step to ensure its on-the-go bottles are made from 100% recycled plastic," added environment minister Rebecca Pow.
"We are committed to crack down on plastic pollution through our landmark reforms such as a deposit return scheme for drinks containers and making manufacturers more responsible for their packaging. Bold measures of this nature from industry will play a huge role in helping us to achieve this ambition."
Wrap strategic technical manager Helen Bird said: "It takes 75% less energy to make a plastic bottle from recycled plastic, and with plastic waste significantly contributing to fossil emissions when incinerated it's never been more important to specify recycled content and keep packaging in a circular system.
"It's positive to see Coke, founding member of the UK Plastics Pact, continuing to push the boundaries on design and engaging with its customers to place the bottles in the recycling, since achieving 100% recycled content is going to be strongly reliant on getting those bottles back."