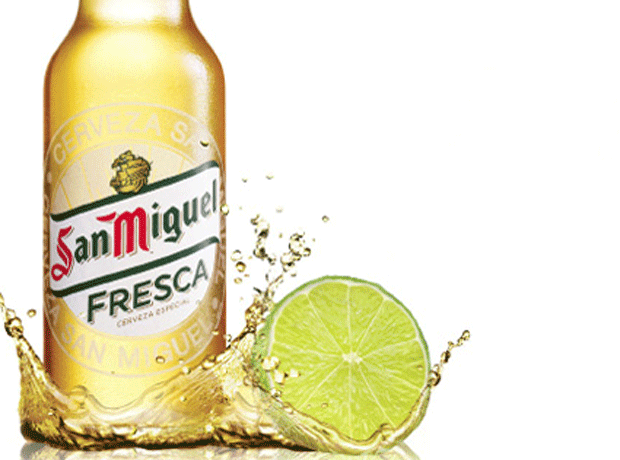 Brewers are hoping increased activity around easy-drinking beers - and a warm summer - will help to revive overall off-trade volumes after they hit a 10-year low in the year to March.

This month, Heineken will be rolling out new-look bottles and multi-pack packaging for its Sol lager. The embossed 330ml flint, long-neck bottle will be available in four and 12-pack formats.

"There is growing interest and demand for world beers that offer easy-drinking refreshment," said Heineken marketing director Jacco van der Linden, adding that sales of Sol had risen 6% year-on-year [IRI 52 w/e 30 March 2013].

Carlsberg also said it was tapping into demand for easier drinking beers with San Miguel Fresca, the 4.4% abv lager launched last year after being developed for the UK market by Carlsberg and Spanish brewer Mahou-San Miguel.

The company is investing £6m in marketing the brand, which made its TV debut this week with a 20-second ad that will run on ITV1 and Channel 4, plus on-demand programmes. It has also launched a Fresca Facebook page.

"Easy-drinking beers account for one in five UK sales of all bottled beer," said Carlsberg UK brands director David Scott.

Another Carlsberg brand - 2.8% abv Citrus - also made its TV debut this week in a new version of the parent brand's Crate Escape ad depicting men finding ingenious ways to break out and smuggle a crate of beer back into a health spa.

Carlsberg Citrus and other low-abv beers have also been subject to pre-summer pricing activity, with some stores selling Citrus at £2 for four 275ml bottles (down from £2.99) and four-packs of Foster's Radler and Carling Zest at £3 (down from between £3.49 and £3.99) [BrandView].

Off-trade lager and ale sales fell to 13.02 million barrels last year, 12% down on 2008 [BBPA].