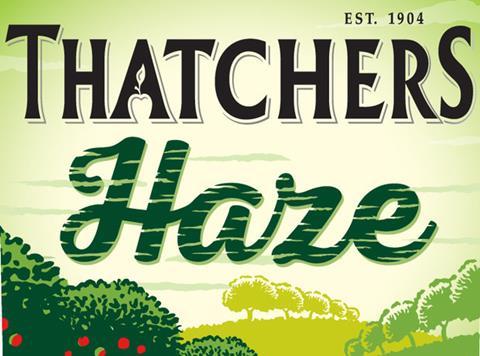 Thatchers has rebranded its cloudy cider Somerset Haze as Thatchers Haze and announced a major promotion of the brand.
Thatchers said the change of name would help the cider to mirror the brand hierarchy of its flagship variant Thatchers Gold. The bottle will feature the descriptor 'Cloudy Somerset cider', retaining the link to the county - but the label now features a graphic of rolling hills similar to that of Gold.
The relaunch will be supported from April by a 'multimillion' campaign across 48 and 96-sheet outdoor ads, retailer six-sheets, trade advertising, PoS materials, PR social and digital. Thatchers said an "exclusive experiential event" was also in the works.
"Tapping into all of the great things that the consumer is asking for - craft, heritage, and quality - Thatchers Haze is an aspirational, contemporary cider with wide appeal for the new generation of cider drinkers as well as those who love apple cider and are looking for something different," said MD Martin Thatcher.
"Linking the brand identity to the Thatchers family through its packaging gives consumers piece of mind that the brand is one they can trust for its great taste and authenticity. It has greater presence on shelf as a serious cider within the cloudy cider category."
Somerset Haze was launched last January with the aim of bridging the gap between traditional cloudy ciders and more modern, sweeter styles. In August, Heineken followed suit when it launched Strongbow Cloudy Apple.
Thatchers said there had been a "massive increase in popularity for cloudy cider" during 2015. "We expect this to continue throughout 2016 as consumers graduate from fruit ciders into the premium apple category," he added.