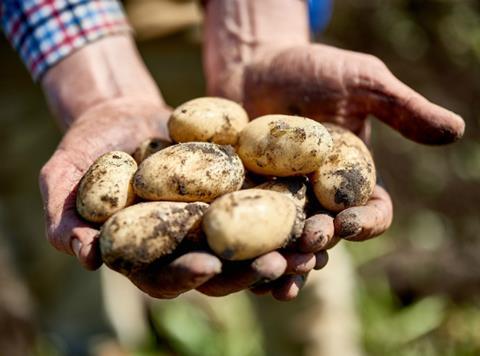 Top story
Food prices have surged at the fastest rate in more than five years after poor weather hampered crop production.
UK shop price inflation accelerated to 0.9% in March, from 0.7% last month, driven significantly by rapid inflation in food prices, according to figures from the British Retail Consortium (BRC).
Food inflation accelerated to 2.5% in March, from 1.6% in February, as it reached the fastest rate of price growth since November 2013, amid global commodity price increases and poor weather conditions.
Ambient food inflation picked markedly up in March, as prices increased 3.4%, a significant increase on February's 1.5% rate of inflation. It marked the highest inflation rate for more than six years.
Fresh food price inflation also continued to accelerate, rising to 1.9% for the month, from 1.7% in February.
The rise reflects the impact of global cereal prices, which have pushed up the cost of bread and cereals.
Last year's bad weather conditions also meant a number of British crops such as onions, potatoes, and cabbage, saw much lower yields, and as a result have now seen price increases, the BRC said.
The rate of inflation for non-food sales, however, slowed to a standstill, with the price of non-food sales in March 2019, the same as in March 2018, dropping from 0.2% year-on-year inflation in February.
"March saw Shop Price inflation rise to its highest level in six years, driven primarily by a sharp spike in non-perishable food inflation," commented BRC Chief Executive Helen Dickinson.
"Increases in global commodity prices and adverse weather events put upward pressures on the wholesale prices of many foodstuffs which, coupled with rises in the cost of alcoholic and non-alcoholic beverages, pushed food inflation from 1.6% in February to 2.5% in March.
"Nonetheless, the bigger threat to food inflation remains the risks of a chaotic no deal Brexit, which would lead to higher prices and less choice on the shelves."
Mike Watkins, head of retailer and business insight at Nielsen said: "The upwards pressure on pricing continues across food retailing and a key driver this month was inflation in ambient food and drink.
"With shoppers looking to stretch their budget for the weekly grocery shop this will not help volume growth, which has been slowing since the start of the year."
Morning update
The owner of Boots has warned that the high street business could face job cuts after suffering its "most difficult quarter".
Walgreens Boots Alliance said it would take "decisive steps to reduce costs in the UK" as part of a "significant restructuring" programme after issuing a shock profit warning yesterday afternoon.
Shares in the company dived 13% on the New York Stock Exchange yesterday after it forecast profits to be flat, significantly behind its target of a 7% to 12% increase.
Boots UK like-for-like retail sales slumped 2.3% in the second quarter to 28 February.
It follows the announcement in February, that 350 jobs are at risk in its Nottingham head office as part of plans to trim HQ costs by around 20%.
"During the quarter, we saw significant reimbursement pressure, compounded by lower generic deflation, as well as continued consumer market challenges in the US and UK," commented chief executive Stefano Pessina.
"While we had begun initiatives to address these trends, our response was not rapid enough given market conditions, resulting in a disappointing quarter that did not meet our expectations.
"We are going to be more aggressive in our response to these rapidly shifting trends.
"We are focusing on our operational strengths and addressing weaknesses, making a number of senior appointments to bring change and accelerating the digitalization and transformation of our business."
Drinks giant Pernod Ricard is banking on an environmentally and socially conscious strategy to boost growth over the coming decade.
The Jameson's owner has unveiled its 2030 sustainability and responsibility roadmap, highlighting environmental and social issues it looking address across its business.
The plan includes eight pledges to undertake socially responsible business habits, such as preserving and looking after the land used to produce its Martell cognac or Mumm champagne brands.
"We are 19,000 'créateurs de convivialité' – passionate hosts but also respectful guests on our planet," commented chairman and CEO Alexandre Ricard.
"Sharing our values, respecting our terroirs and promoting responsible consumption are all conditions for sustainable growth. Yesterday, today and tomorrow, we will continue to create for the long-term."
The FTSE 100 is up again slightly this morning, rising 0.1% to 7,400pts amid growing weakness in sterling.
The early risers include B&M European (BME), up 1.3% to 385.4p, Restaurant Group (RTN), up 1.2% to 114.4p, and Just Eat (JE.), up 1.2% to 774.4p.
The early fallers include Bakkabor (BAKK), down 3.1% to 118.4p, Premier Foods (PFD), down 2.4% to 35p, British American Tobacco (BATS), down 1.5% to 3,130p, and Imperial Brands (IMB), also down 1.5%, to 2,589p.
Yesterday in the City
The FTSE 100 rose to a six-month high of 7,391pts, after surging 1% on the back of the weakening pound, as fears grow regarding a possible no deal Brexit.
The latest grocery market share figures from Kantar showed year-on-year supermarket sales growth of 1.4% during the 12 weeks to 24 March 2019 after the lack of Easter and Mother's day trimmed an estimated 0.5 percentage points off the overall growth rate.
Tesco (TSCO) grew by 0.5% to achieve market share of 27.4%, while Asda has built on two years of continuous growth and increased sales by 0.1% this period to become the second largest grocery retailer ahead of Sainsbury's.
Neilsen's market data, also announced yesterday, showed Aldi has overtaken Morrisons in market share for the first time, making it the UK's fourth largest supermarket.
Elsewhere convenience chain McColl's (MCLS), jumped 4.5% to 79.5p, as it regained some lost ground after recent profit warnings.
The day's other risers included Majestic (WINE), up 3.6% to 229p, B&M European (BME), up 2.1% to 380.4p, and Bakkavor (BAKK), up 1.8% to 122.2p.
Palm oil producer MP Evans was one of the big fallers, sliding 7.1% to 637p, after a slump in annual profits, partly driven by weaker global palm oil prices.
Other fallers included Fuller, Smith & Turner (FSTA), down 3.9% to 1,120p, Treatt (TET), down 2.3% to 395.5p, and Finsbury Food Group (FIF), down 1.6% to 60.5p.