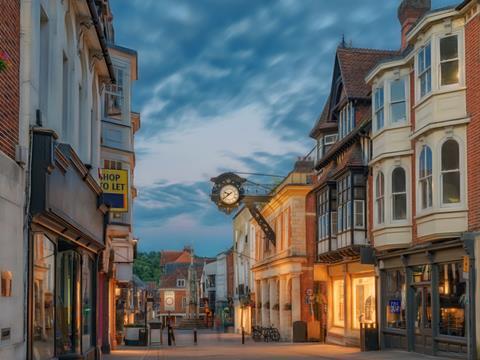 Top story
The Chancellor is set to attempt to ease the pressure high street retailers by cutting business rates bills by a third for almost half a million small high street shops, as he announces the Budget today.
Philip Hammond will announce business rates relief for small business owners in a £1.5bn spending pledge to fight the threat posed by Amazon and other online retailers
The Chancellor's rescue plan, aimed at halting the pattern of closures among shops and pubs, will include £900m of immediate business rates relief and relaxing town planning laws.
The policy will also include a £650m fund to improve infrastructure and transport and to re-develop empty shops as homes and offices, and to restore and re-use old historic properties.
Hammond's pledge comes following a string on retailers announcing closures in 2018, including Poundworld, House of Fraser and most recently Debenhams.
According to the Treasury, the changes would mean a pub in Sheffield with a rateable value of £37,750 will save £6,178 next year and a newsagent in Moseley, Birmingham with a rateable value of £14,250 will save £1,749.
The move has brought refielf to UK business groups. Mike Cherry, national chair of the Federation of Small Business' said: "For far too long they have come up against an outdated and unfair rates system and it's clear that change is needed."
However, the CBI's chief economist Rain Newton-Smith said far more intervention was needed to reduce the current struggles of businesses on UK high streets.
"It's no secret that the UK's high streets are under pressure, with boarded-up shops all too frequent a sight in many parts of the country," he said.
"The roots of the problem go far deeper though, with business rates giving larger retailers serious headaches, alongside manufacturers and logistics firms.
"There must be a wholesale review next year to deliver a system that encourages greater investment in digital, new technologies and energy efficiency."
Morning update
Veteran restauranteur David Scott is set to make a takeover bid for troubled café chain Patisserie Valerie, according to newspaper reports this weekend.
The entrepreneur, who sold the Druckers Vienna Patisserie brand to Patisserie Holdings (CAKE) in 2007, said he has the backing of a large family private equity firm.
The Sunday Times reports that Scott has engaged a boutique adviser, Transcend Corporate, which is "gently speaking to some of the shareholders, saying, 'Would you like to get out?'"
Patisserie Valerie has been embroiled in uncertainty after it shocked the stock market last month, when it discovered "significant, and potentially fraudulent accounting irregularities".
Finance director Chris Marsh, who was suspended and then arrested, resigned from the company last Friday.
Ahead of a crunch shareholder meeting on Friday this week a leading investor has warned that there needs to be "wholesale changes" at the top of the firm after it £40m black hole was found in its accounts.
Chairman Luke Johnson and chief executive Paul May should be replaced or governance strengthened to make sure such a disaster could not happen again, the investor told the Daily Mail.
The FTSE 100 has rebounded strongly this morning ahead of the budget, jumping up 0.6% to 6,981pts.
Early risers include Tate & Lyle (TATE), up 2% to 676p, Devro (DVO), up 1.7% to 166.8p, and payPoint (PAY), up 1.5% to 831.5p.
Early fallers this morning include Just Eat (JE.), down 4.7% to 573.2p, Glanbia (GLB), down 3.9% to 14.4p, Wincanton (WIN), down 2.8% to 201.6p, and McColl's (MCLS), down 2% to 123p.
This week in the city
Two of the UK's consumer health giants are leading the way this week as they report their figures for the third quarter.
Strepsil and Clearasil manufacturer Reckitt Benckiser (RB.) will be hoping for continued improvement on Tuesday after lifting its full-year profit targets in July, as it benefited from its Mead Johnson acquisition.
Struggling bakery supplier Real Good Food is also set for a trading announcement on Tuesday.
On Wednesday, Sensodyne and Aquafresh maker GlaxoSmithKline (GSK) will be posting its figures for the third quarter. In the previous reporting period, it announced a £1.7bn cost-cutting initiative.
Pakcaging giant Smurfit Kappa Group will also be releasing its results for the third quarter on Wednesday.
The following day is crunch day for Irish-Swiss bakery firm Aryzta, which is desperately trying to get a €800 million cash call over the line, after it announcing fundraising last month.
Thursday will also see a trading update from food delivery company Just Eat (JE), as it looks to rebound from a recent slump in value as rumours continue over Uber's interest in competitor Deliveroo.
Food packaging giant Hilton Food Group (HFG) will also provide a trading update on Thursday.
Meanwhile, crisis-stricken Patisserie Holdings will be holding a GM, as it looks to rebuild after its accounting scandal in recent weeks.
Internationally, we will see a rush of result announcements, with The Coca Cola Co (KO) leading the way on Tuesday, as it announces its third-quarter figures. It will be swiftly followed by Nivea maker AG Beiersdorf.
On Wednesday, Kellogg (K) will announce its results for the period, followed by FMCG giant Kraft Heinz (KHC) on Thursday.
Thursday will also announcements from brewing giant Carlsberg and US cafe chain Starbucks.