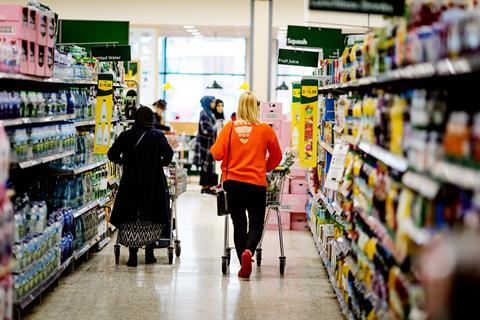 Top story
UK consumer confidence remained flat in March despite the unprecedented uncertainty surrounding the country's exit from the EU.
GfK's Consumer Confidence Index stayed at the same level in March at -13, though this is notably down from the overall -7 recorded in March last year.
The measure for the general economic situation of the country during the last 12 months has stayed the same month-on-month, albeit a low score of -33 and seven points lower than March 2018.
Expectations for the general economic situation over the next 12 months have increased two points to -36, though this remains 14 points lower than March 2018.
The index measuring changes in personal finances during the last 12 months has stayed the same this month at 0 and three points lower than March 2018.
The forecast for personal finances over the next 12 months has increased one point to +2 this month, which is eight points lower than March 2018.
Joe Staton, Client Strategy Director at GfK, commented: "Consumer confidence has held steady this month at minus -13, despite political chaos and ensuing uncertainty as we try to find our rightful place within Europe. Against a backdrop of stable inflation and a robust labour market, where wages continue to grow more quickly than prices, confidence has remained negative but fairly stable since the Referendum.
"However, while UK consumers report a small increase in optimism for their personal financial situation for the coming year, the index is being dragged down by our nagging fears for the general economy. Things might change when people feel the current crisis has passed but what sort of resolution can consumers reasonably contemplate just now? Or are consumers rightly sensing a bumpier economic climate for post-Brexit Britain?"
Morning update
Yet again, all eyes will be back on parliament this evening as the government makes its third attempts to push through its plans to exit the EU – though this time only the withdrawal agreement will be voted on by MPs, with the political declaration shelved for another day.
This week's issue of the The Grocer has the latest UK food and drink exports numbers, the story that vegetable snack startup Emily Crisps has been bought by Ape Snacks, Retail group Two Heads Beer Co has closed all three stores of its high street bottle shop chain The Beer Boutique and much more.
Check out thegrocer.co.uk/finance later this morning for the full details and details of another major piece for food and drink M&A later this afternoon.
On the markets this morning, the FTSE 100 has started the day on the front foot by rising 0.5% in early trading to 7,267.7pts.
Early risers include Stock Spirits (STCK), up 4.1% to 230p, FeverTree (FEVR), up 2.4% to 3,069p, Premier Foods (PFD), up 1.8% to 37.1p and Tesco (TSCO), up 1.4% to 232.3p.
Fallers so far today include C&C Group (CCR), down 1.2% to €3.10, Kerry Group (KYGA), down 0.4% to €97.55 and Ocado (OCDO), down 0.4% to 1,355p.
Yesterday in the City
Weakness in sterling stemming from the Brexit twists and turns has helped to buoy the international-focussed FTSE 100, finishing the day up 0.6% to 7,234pts.
FTSE 100 risers included Imperial Brands (IMB), up 2.3% to 2,619p, British American Tobacco (BATS), up 2% to 3,152p, Compass Group (CPG), up 1.3% to 1770.5p, Unilever (ULVR), up 1.2% to 4,400.5p and Diageo (DGE), up 1.1% to 3,132p.
Yesterday also saw Coca-Cola's bottler for the UK and much of Europe (CCEP) secure a listing on the main market of the London Stock Exchange.
Online retailer Ocado Group (OCDO) continued its surge in value, hitting a new high of 1,360p, after rising another 5.3%, two days after announcing its most recent international deal with Australia's Coles.
Other key risers included McColl's (MCLS), up 5.7% to 74p, Fevertree drinks (FEVR), up 2.9% to 2,998p, and Greencore (GNC), up 2.5% to 199.8p.
The day's biggest faller in the sector was agricultural firm CARR's (CARR), which continued a recent fall in value, sliding 6.2% to 132p.
Other fallers included Nichols (NICL), down 5.1% to 1,625p, Wincanton (WIN), down 3.1% to 233.5p, and Sainsbury's (SBRY), down 2.3% to 232.6p.