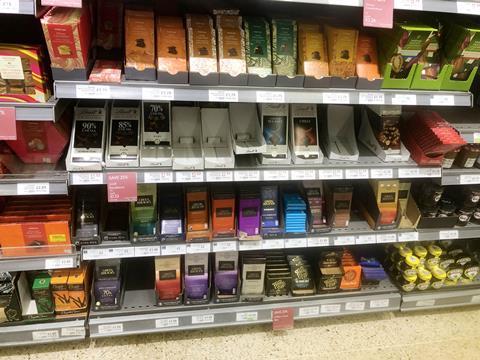 Top story
A drop in food and non-alcoholic drinks prices as England went into a second lockdown has contributed to a significant fall in the UK inflation rate in November, according to official figures.
Inflation fell to 0.3% last month, down from 0.7% in October, with clothing also pushing down prices as retailers desperately offered dramatic discounts to attract shoppers during Black Friday.
The fall was partially offset by higher prices for games, toys and hobbies, the Office for National Statistics said.
The price of food and non-alcoholic beverages fell by 0.2% in November, compared with a rise of 0.8% a year ago.
The ONS said the contribution from the category had usually been positive over the past four years, but the November data showed the largest negative effect since January 2017.
It reflected an overall price fall of 0.5% in the year to November 2020.
The negative contributions came from a variety of product groups, with some healthier than others.
"The effect came from across a wide range of food and drink categories, but particularly sugar confectionery, vegetables and meat, from products such as large bars of chocolate, ice cream, cauliflower, premium potato crisps and cooked ham," the ONS added.
Price fluctuations for clothing and footwear have followed a different to normal in 2020 as a result of the Covid disruption.
Usually, prices in the categories rise from January to May before summer sales kick off in preparation for new autumn product ranges. Prices then tend to rise until more sales in December.
The ONS recorded increased discounting during March and April as the country went into the first national lockdown and then prices were relatively stable – compared with previous years – to August. Between August and October, prices broadly increased as usual, but this has been followed by a fall between October and November.
"With significant restrictions in place across the UK, inflation slowed, predominantly due to clothing and food prices," said Jonathan Athow, the ONS deputy national statistician for economic statistics.
Morning update
British American Tobacco is ready to test its Covid vaccine on humans.
The tobacco giant's US bio-tech arm has been developing a vaccine using innovative fast-growing plant-based technology.
Kentucky BioProcessing (KBP) said it was now ready to start phase one first-time-in-human study of its vaccine candidate following approval of its Investigational New Drug application by the US Food and Drug Administration.
Enrolment for the study is expected to begin shortly.
Dr David O'Reilly, BAT director of scientific research, said: "Moving into human trials with both our Covid-19 and seasonal flu vaccine candidates is a significant milestone and reflects our considerable efforts to accelerate the development of our emerging biologicals portfolio.
"It is our unique plant-based vaccine technology, which acts as a fast, efficient host for the production of antigens for a variety of diseases, that has enabled us to make this progress and respond to the urgent global need for safe and effective treatments and vaccines.
"This is part of our ongoing commitment to innovation and science, which are fundamental to our business. As a company committed to building A Better Tomorrow, we are proud to play our part in the global fight against this virus and – hopefully – we can contribute to the solution."
The FTSE 100 has leapt 1.3% to 6,595.85pts this morning as hopes of a Brexit deal were reignited.
Risers this morning included, Nichols, Greggs and Greencore, increasing 2.4% to 1,295p, 2.4% to 1,722.8p and 2.1% to 120.6p respectively.
McColl's Retail Group is among the early fallers, down 1.5% to 25.6p, as is B&M European Value Retail, down 0.8% to 507.4p, and Ocado, down 0.5% to 2,220p.
Yesterday in the City
The FTSE swung into the red to end the day 0.3% down at 6,513.32pts as a Brexit deal hung in the balance and London prepared to enter tier 3 restrictions.
There hasn't been much company news to drive investor activity, but food and drink fallers yesterday included Heineken, down 2.5% to €89.72, Remy Cointreau, down 2.5% to €147.30, and Reckitt Benckiser, down 2.1% to 6,408p.
Climber included Vimto maker Nichols, Naked Wines and pub group Marston's, up 5% to 1,265p, 3.3% to 618p and 1.9% to 70p respectively.