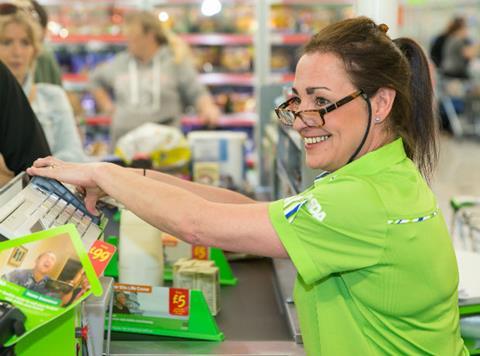 Top story
A combined Sainsbury's (SBRY) and Asda would result in a combined entity with a potential grocery market share of 31.4%, Kantar Worldpanel said this morning – a "pivotal moment" in the sector's history.
The latest grocery market share figures, published today for the 12 weeks to 22 April 2018, reveal a market share of 15.9% and 15.5% for Sainsbury's and Asda respectively.
Sainsbury's increased sales by 0.2% over the past 12 weeks. Asda's sales rose 1.4%. Both Sainsbury's and Asda dropped market share compared with this time last year – down 0.3 percentage points and 0.1 percentage points respectively.
Fraser McKevitt, head of retail and consumer insight at Kantar Worldpanel, said: "This is a pivotal moment for the British grocery market. A merger between Sainsbury's and Asda would transform the traditional landscape placing nearly a third of market share in the hands of the joint supermarket giant, though the march of the discounters and any enforced store closures could impact this figure.
"The two supermarkets appeal to different customer bases. Asda achieves nearly two thirds of its sales outside London and the South East of England in contrast to Sainsbury's, which registers 59% of its sales in those two areas.
"Sainsbury's also appeals to more affluent shoppers (ABC1): this demographic accounted for 62% of all sales at Sainsbury's in comparison to 46% of sales at Asda," he said.
Meanwhile, Sainsbury's premium own-label line, Taste the Difference, clocked up sales of £832m annually – nearly two and a half times the size of Asda's Extra Special range, McKevitt added. And 15.8m households bought their groceries at Asda over the past 12 weeks – 500,000 more households than shopped at Sainsbury's – "but we are seeing a substantial number of customers frequenting both retailers. Nearly nine million households visited both Sainsbury's and Asda, with consumers showing little retailer loyalty."
Tesco (TSCO) and Morrisons (MRW) both performed strongly during the period. Morrisons was the fastest-growing traditional supermarket, raking in sales growth of 2.2% and holding market share at 10.5%.
Although Morrisons continued to prove a favourite with shoppers in its northern heartlands the retailer was also excelling in the capital, where it was growing at its fastest rate, McKevitt said.
Meanwhile, for the twelfth consecutive period, Tesco grew more than 2% – the first time the retailer achieved this since March 2011.
Lidl, however, has become the UK's fastest-growing bricks and mortar supermarket, with sales up 9.1%.
The discounter upped its market share by 0.4 percentage points compared with this time last year to reach 5.4%.
Despite traditionally performing well in sales of own-label products, branded sales at the retailer rocketed 32% with sales of branded alcohol, soft drinks and dairy proving particularly successful.
Aldi continued to experience strong sales growth – up 7.7% – increasing its market share by 0.4 percentage points to 7.3%.
Sales at both Iceland and Waitrose rose 0.2%. Iceland continued to hold market share at 2.1%, while Waitrose dropped share by 0.1 percentage points on last year to 5.1%.
Co-op saw sales fall by 0.4% as its market share fell by 0.1 percentage points to 6.0%. The disposal of 300 McColl's (MCLS) stores was still impacting headline performance, Kantar said. Ocado's (OCDO) sales jumped 12.7%, helping the e-commerce retailer to increase market share by 0.1 percentage points to 1.2%.
Grocery inflation now stands at 2.1% for the 12 week period ending 22 April 2018. Prices are rising fastest in markets such as butter, bottled colas and bread, and are falling in only a few markets, including ambient cooking sauces, fresh poultry and laundry detergents.
Over to Nielsen retail data released this morning – Asda enjoyed the most the most improved year-on-year performance of the top four supermarkets in the 12 weeks ending 21 April with sales up 2.3%, it said.
It said Asda's share of the grocery market stood at 13.9% which would mean a combined market share with Sainsbury's of 28.8% if the proposed merger of the two went ahead – above Tesco's 27.1%, it said.
Mike Watkins, Nielsen's UK head of retailer insight, said both retailers had more than half of all households as shoppers every 12 weeks, while more than three-quarters also visited Tesco.
"This illustrates how competitive the retail landscape is, which is why we're seeing further consolidation within the industry," he said.
Sainsbury's sales grew 0.2% year-on-year, while Tesco's grew 2.1%. Overall, Iceland, up 3.6%, had the best growth figures outside of the discounters, where Aldi's year-on-year growth of 10.3% again edged ahead of Lidl's at 9.3%.
The unpredictable weather, however, again disrupted grocery spend and stalled the industry's momentum in the four weeks ending 21 April.
Sales at the UK's leading supermarkets rose 1.2% year on year – the lowest rise since January 2017, excluding seasonality-affected periods.
Watkins said the unpredictable weather finally started to disrupt grocery spend, particularly compared with last year which saw a mini heatwave in mid-April which meant a significant short-term boost to sales.
"A significant change in the weather can give supermarket sales as big a boost as an important event such as Easter, which is what happened in the week ending 21 April this year. The three days of hot weather helped sales jump 11% year-on-year. However, this wasn't enough to offset the previous three weeks of poor weather."
In that week of good weather, shoppers spent £11m on sun care products, nearly treble the amount in the same period last year, and £28m on ice cream, which was double last year. Mixers for alcoholic drinks also saw particularly strong growth, up 51%, as did cider, up 46%.
The number of items purchased year-on-year fell 1.1% – the poorest growth figure for more than seven months – which Watkins said showed shoppers were still cautious about spending despite food price inflation slowing down.
Watkins says that sales momentum would be "kick-started by any sustained period of warm weather and the proximity of the two bank holidays in May plus the Royal Wedding.
"This is all good timing, with the activation of promotions around the football World Cup kicking off soon after. These three events should be enough to return the industry to volume growth during the next eight weeks", Watkins said.
Morning update
Just Eat (JE) posted revenues up 49% from £118.9m to £177.4m in the first quarter – citing strong order growth and a greater proportion of higher value delivery orders.
The online food delivery company said group orders climbed 32% to 51.6m in the period to the end of March. Revenue, on a currency neutral basis, revenues grew 51%.
UK orders increased 24% to 29.7m, up from £24m in the same period last year. This benefited from 1.4m orders from Hungryhouse, following the completion of the acquisition on 31 January, as well as the inclusion of part of the Easter holiday weekend, which added an estimated one percentage point to UK order growth.
International orders rose 46% from £15m to £21.9m, driven by continued triple-digit order growth in Canada and strong performances in Italy and Spain, partly offset by softness in Australia.
The group reiterate guidance given at the time of the 2017 full year results in March of group revenue of £660-700m and uEBITDA of £165-£185m in 2018.
Peter Plumb, chief executive, said: "Just Eat has had a strong start to the year. We delivered our 400 millionth order in the UK, grew well in Italy and Spain, whilst powering continued momentum in our Canadian delivery service SkipTheDishes.
DS Smith (SMDS) has issued a pre-close trading update for the year to the end of April in which it said it continued to perform in line with its expectations.
Volume growth had remained strong with its focus on sustainable solutions and the accelerating e-commerce sector.
This and continued growth in multinational customers has resulted in further gains in its market share. Recovery of increased paper prices, which had risen throughout the year, had continued as expected and the company expected return on sales to be in line with the previous year.
Volume growth in the US had been "excellent", and it was "very pleased" with the positive reaction from local and global customers. Integration of Interstate was also progressing well and the group now expected synergies to reach an annualised rate of $35m by the end of the third full year of ownership – a further increase of $5m on its expectations – driven principally by further anticipated global supply chain benefits.
DS Smith's acquisition of Ecopack and Ecopaper completed on 6 March 2018, further building its European network, and it said it was pleased with the initial progress made, driven by our proven expertise in integration.
Miles Roberts, group chief executive, said: "We are very pleased with the performance in the year, in particular in the step-up in volumes that we have delivered, and in the successful integration, customer reaction and volume growth within Interstate.
"Our success is underpinned by our commitment to sustainable packaging that is innovative and adds value to our customers, throughout their global supply chains and also by a focus on our own global supply chain efficiency. This approach, together with momentum in our business and opportunities to further strengthen our customer offering, gives us confidence in the future."
On the markets this morning, the FTSE 100 climbed 0.2% in early trading to 7,523pts
Early risers include Sainsbury's, up 1.4% at 313.2p, Just East (JE), jumped 4.3% to 807p, following its first-quarter announcement this morning, Compass Group (CPG) climbed 1.7% to 1,587p, Ocado (OCDO) Group jumped 2.25% to 550.5p, PureCircle (PURE), 2.6% to 394p and Stock Spirits Group (STCK), 4.2% to 260p.
Fallers so far today include Morrisons (MRW), down 1.4% at 239.8p, British American Tobacco (BATS), OFF 1.3% AT 3,947p, AG Barr, (BAG), down 0.8% at 691.6p, Glanbia (GLB), off 0.9% at 13.9p.
Yesterday in the City
The FTSE 100 closed up 0.1% at 7,509.3pt.
Wynnstay Group (WYN) said it had reached agreement with Countrywide Farmers' administrators to buy eight stores from Countrywide's network of county outlets for an initial £800,000.
Five of the stores are in Devon and Cornwall and the remainder in Bridgnorth, Shropshire; Raglan, Monmouthshire and Thame, Oxfordshire.
The new stores provide a range of products for farmers and the rural community, and operate similarly to Wynnstay Country Stores.
The total number of Wynnstay Country Stores will increase from 52 to 60 outlets on completion.
On the markets, the City gave a definitive thumbs up to the Sainsbury's/Asda merger, with Sainsbury's shares jumping 14.8%, closing at 309.7p, although it had climbed more than 20% in early trading.
Morrisons ended the day 2.16% lower, possibly in reaction to the Sainsbury's/Walmart announcement. Tesco, too, lost 1.1%, closing down at 235.5p.
Majestic Wine (WINE) took a tumble, haemorrhaging 4.9% to close at 418.5p. Coca Cola HBC (CCH) closed down 1.25% at 2,448p, Dairy Crest Group (DCG), fell 2.1% to 542p, Greencore Group (GNC) drifted down 1.4% to 158.4p, Kerry Group, slipped 1.2% at €84.1 and Stock Spirits Group (STCK), 5% at 249.5p.
Ocado (OCDO), managed to climb 1.9% to 538.4p while McColl's Retail Group (MRG), rose 2.4% to 246.4p.
Science in Sport (SIS) make good gains, up 2.5% at 82p, Wynnstay (WYN) Group rose 1.3% after it announced the acquisition of eight Countrywide Farmers' outlets, and SSP Group (SSPG), climbed 2.1% at 653.4p.