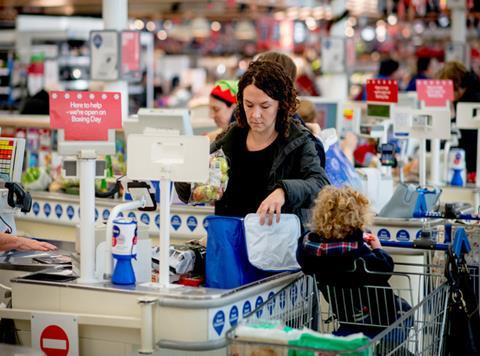 Top story
Grocery sales for the 12 weeks to 3 December rose by 3.1%, according to the latest market share figures from Kantar Worldpanel.
Sales were driven up by strong inflation, with like-for-like grocery inflation standing at 3.6% – it's highest level since 2013.
Aldi reclaimed its crown as Britain's fastest growing grocer during the latest quarter, with sales up 15.1% year on year, marginally ahead of Lidl, which grew sales by 14.5% during the past 12 weeks.
The biggest four grocers saw collective growth of 1.9% during the past 12 weeks, making this the ninth consecutive period of increasing sales for the UK's largest retailers. Tesco (TSCO) – with sales up 2.5% compared to this time last year – was the fastest growing of the four.
Sainsbury's (SBRY) grew sales by 2.0% year on year, Morrisons (MRW) was up 1.4% and Asda up 1.2%.
Seperately, Nieslen this morning found that takings at grocery retailers tills in the four weeks to 2 December were 3.4% higher versus the same period a year ago, though excluding the discounters sales were 1.3% higher.
Among the big four, Tesco had the most improved performance over the last 12 weeks with sales up 3.4% year-on-year, followed by Sainsbury's at 1.9%, Asda at 1.7% and Morrisons at 1.6%.
Aldi and Lidl rose by 13.2% and 16.5% respectively, taking their market share up another 1.3%pts to 13%.
Outside of the discounters, Marks & Spencer had the best sales growth figures, up 4.6% year-on-year, with The Co-op the only retailer to see a decline, down 0.4%.
Nielsen anticipates a record £4.2bn will be rung through the tills of the UK's leading supermarkets in the week before Christmas day.
With only one-third of shoppers expected to spend less on Christmas food and drink than last year, the £4.2bn represents 3.6% more than the corresponding week last year and 50% more than a typical week in the year.
"With Christmas Day falling in a Monday, people are likely to delay their big Christmas shop until the final week and we expect nearly all shoppers will visit a grocery retailer at least twice that week," says Mike Watkins, Nielsen's UK head of retailer insight. "The seven days trading available up until the Sunday is good news for the supermarkets which should benefit the big out of town stores in particular as shoppers take advantage of Christmas promotions and stock up on fresh foods."
Kantar Worldpanel's Fraser McKevitt said that if the festive period followed the patterns of 2006 – the last time Christmas Day fell on a Monday, "Friday 22 December is likely to win out as the grocers enjoy not only the biggest shopping day of 2017, but the most successful ever recorded. Over Friday 22 and Saturday 23 December, we expect shoppers to part with an eye-watering £1.5 billion as they fill their trollies ahead of Christmas day."
Morning update
There's little news on the grocery front this morning, but in wider retail there is another multi-billion pound shopping centre deal with the owner of Westfield shopping centres bought by French property group Unibail-Rodamco for US$24.7bn.
The deal will see the Westfield brand rolled out across Europe and further afield and is worth US$7.55 a share for investors in the Australian group. Westfield Corporate has retail assets focussed in the UK and US, while Unibail-Rodamco has 71 sites in Europe.
On the markets this morning, the FTSE 100 has opened up less than 0.1% at 7,457.5pts.
The market has little doubt as to the winners and losers from this moring's Kantar data. Tesco (TSCO), is up 1% to 207.6p and Tesco-bound Booker (BOK), is up 0.9% to 226.8p.
However, Morrisons (MRW) has plunged 2.5% to 215.8p so far this morning and Sainsbury's (SBRY) is down 2.2% to 239.4p.
Elsewhere, early risers include Applegreen (APGN), up 1.5% to 499.75p, Hilton Food Group (HFG), up 1.3% to 854p, McBride (MCB), up 1.2% to 227p, Tesco (TSCO), up 1% to 207.6p and Booker (BOK), up 0.9% to 226.8p.
Fallers include Marston's (MARS), down 3.1% to 117.3p, Greene King (GNK), down 2.6% to 513.3p and Greggs (GRG), down 1.1% to 1,338p.
Yesterday in the City
The FTSE 100 had a strong started to the week, climbing 0.8% yesterday to end trading at 7,453.4pts.
The market rally was helped by trading weakness for the pound, which slid around 0.4% against the euro and 0.2% against the dollar during tradng hours.
The weakness of sterling helped boost some large FTSE 100 names, including Compass Group (CPG), up 1.3% to 1,511 and British American Tobacco (BATS), which rose 1.3% to 5,002p.
Other risers included pubco/brewers Marston's (MARS) and Greene King (GNK), up 2.7% to 121p and 1.8% to 527p respectively. Science in Sport (SIS) was up 3.5% to 74.5p, Crawshaw Group (CRAW), rose 3.5% to 11.25p and McColl's (MCLS), was up 1.8% to 280p.
Fallers included a number of retail names, including Ocado (OCDO), down 1.8% to 349.4p, Marks & Spencer (MKS), down 1.5% to 314.2p, Conviviality (CVR), down 1.7% to 385p, and Pets at Home (PETS), down 3.4% to 165.5p.
Other fallers included Greencore (GNC), down 2.2% to 214.7p, Hilton Food Group (HFG), down 1.9% to 843p, Just Eat (JE), down 1.9% to 783.5p and Whitbread (WTB), down 2.7% to 3,888p.