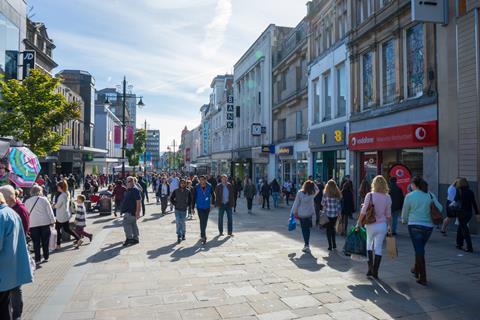 Top Story
Retail sales dropped by over 14% in June, marking five months of negative like-for-like figures this year, though this still represented the sector's best result since February, according to accountancy and business advisory firm BDO's High Street Sales Tracker.
As high street shops were allowed to reopen from 15 June, the high street saw its best results since lockdown with like-for-like sales falling 14.4% from a base of a 3.5% increase the same month a year ago.
The accelerated shift to ecommerce continued as total non-store like-for-like sales rocketed by 102.6% this month from 16.5% in June 2019, marking the third consecutive month where total non-store like-for-like sales recorded an increase above 100%.
Homeware was the only sector to report like-for-like sales increase this month – up 25.5%, with lifestyle sales down 23.9% and fashion sales dropping 20.9%.
Sophie Michael, head of retail and wholesale at BDO, said: "Despite the opening of non-essential retail and a strong performance of non-store sales in June, retailers have a long way to go to claw their way back following three months of closure.
"It will take time for both retailers to resume operations and for consumers to regain the confidence to head back to bricks-and-mortar establishments. The strength of non-store sales throughout the lockdown shows that spending has not entirely dried up, and while the re-opening of shops will be a welcome sign, for many it may not bring immediate results.
"Retailers should remain cautious and continue to invest in the ever more critical non-store channel, given the acceleration of the continuing shift to online.
"The reality is that consumer confidence remains historically low, well below pre-crisis levels. Despite the government's ambitious plans, the road to recovery will be challenging and fraught with uncertainty until the real impact of the pandemic is understood, and therefore any early signs of a high street recovery may prove to be a false dawn."
Morning update
In this week's issue of The Grocer read about the acquisition of Eat Real owner Cofresh by newly-created Asian foods group Vibrant Foods, Higgidy's return to profit after branded sales expansion and more.
Read more at https://www.thegrocer.co.uk/finance later this morning.
The FTSE 100 started the day in the green, up 0.3% at 6,259.74pts.
Early risers included PZ Cussons up 2.4% at 189.20p, Greencore up 2% at 128.20p, FeverTree up 0.8% at 2,116p and Coca Cola HBC up 1.4% at 2,011p.
Associated British Foods started trading down 0.8% at 2,029.97p, B&M European Value Retail down 2.3% at 420.20p and DS Smith down 1% at 293.83p.
Yesterday in the City
The FTSE 100 closed up 1.3% at 6,238.56pts.
Closing in the green Premier Foods was up 4.8% at 74.20p, Associated British Foods up 4.2% at 2,046p, WH Smith up 3.9% at 1,094.90p and B&M European Value Retail closed 3.4% higher at 431p.
Fallers included DS Smith, closing down 7.3% at 295.57p, Nichols down 4.3% at 1,255.49p and Science in Sport down 4.1% at 31.66p.