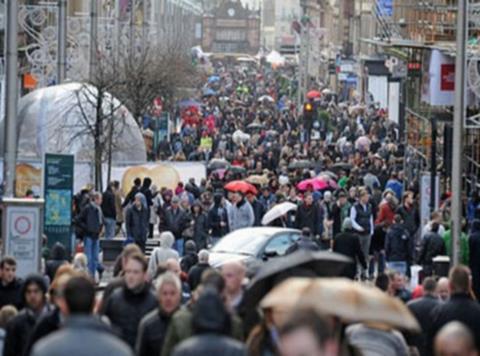 Top story
Retail footfall suffered another steep drop in October as the autumn rain kept shoppers at bay.
Total footfall declined 3.2% year on year in the four weeks to October 26, according to figures published by the BRC-Springboard footfall and vacancies monitor.
The fall marked the worst result in seven years for the month, and was significantly higher than the 1.7% drop experienced in September.
"Whilst it can't be regarded as a purely pre-Brexit breakdown as the weather also played a part, the prevailing political uncertainty must be having a considerable impact on activity, given the low level of consumer confidence," said Springboard marketing and insights director Diane Wehrle.
High streets were the location hit hardest by the footfall drop in October, as the persistent rain and wintery weather put off shoppers, leading to a 4.9% drop.
Shopping centres saw the number of shoppers through their doors fall 2.4% in October: an improvement on the previous month's 3.2% plunge.
Retail parks registered a 0.5% footfall reduction, the first decline in five months, after previously bucking the negative trend by enticing shoppers with a varied consumer offer.
Retailers, however, will be hoping for footfall to pick up the pace in the all-important 'Golden Quarter', including Black Friday and Christmas, according to BRC CEO Helen Dickinson.
Weak consumer demand and Brexit had impacted sales in recent months, she added, stating that the prospect of a new election could further worsen things for retailers.
"The election offers an opportunity for a future government to outline how it would support an industry that pays over £17bn in tax every year and employs over three million people," Dickinson said.
"With retail accounting for 5% of the economy, yet paying 10% of all business taxes and 25% of business rates, it is clear there is room for improvement."
Morning update
Greggs (GRG) has reported "strong trading momentum" in recent weeks will lead to higher than expected full year profits.
The food-to-go chain said total sales up 12.4% for the six weeks to 9 November 2019, with manged shop like for like sales up 8.3% in the period.
Sales growth continues to be driven by increased customer visits and has been stronger than expected given the improving comparative sales pattern seen in the fourth quarter last year.
Due to like-for-like performance holding up well against strengthening prior year sales the company now anticipates 2019 full year profit before tax (excluding exceptional charges) will be higher than our previous expectations.
It said operational costs also remain well controlled and, whilst the comparative sales become stronger still in the balance of the year.
In the year-to-date, total sales have grown by 13.4% and like-for-like sales have increased by 9.2%.
Just Eat (JE) suitor Prosus has published its official offer document for its £4.9bn 710p per share bid to buy the online takeaway firm.
Prosus is hoping Just Eat shareholders will prefer its bid to the board's preference for a merger with Dutch online takeaway firm Takeaway.com.
Prosus said its bid represented a 20% premium to the value of the Takeaway.com Offer of 594 pence per Just Eat Share based on Takeaway.com's Closing Price of €71.00 on 21 October 2019 (the day before its cash bid was made).
Prosus has lowered the acceptance threshold of its bid to 75% of shareholders, which it says have until 1pm on 11 December 2019 to accept its offer.
Agriculture and Engineering company Carr's Group (CARR) has announced its results for the year ended 31 August 2019.
Revenue for the year increased by 0.2% to £403.9m, while adjusted operating profit was up 8.4% to £18.9m with agriculture contributing £13.6m and Engineering £5.3m.
Its Agriculture division "performed well in challenging market conditions".
Unseasonable mild and dry weather during winter and spring impacted sales volumes in the UK and across Europe. Meanwhile, consistent wet weather in the USA also reduced demand for feed blocks, impacting sales volumes.
Despite the challenging weather conditions, the company said its impact on profitability was substantially mitigated through various cost savings, including lower central costs, together with better procurement and manufacturing efficiencies which, combined with the contribution from Animax, enabled the division to report increased profits.
Chairman Chris Holmes commented: "We are pleased to have delivered a strong financial performance in the year, moderately ahead of the Board's expectations, despite unseasonable weather significantly impacting trading across our Agriculture division.
"We also made good strategic progress during the year, including acquisitions across both divisions where integration is progressing well. In Agriculture, we are excited by plans to develop Animax, acquired in September 2018, into a centre of excellence for innovation and product development for the wider Agriculture division.
"I am confident, as I step down from the role of Chairman at the AGM in January, that I leave the company in an excellent position to build upon on its strong market positions and capabilities, expand its international footprint and deliver sustained growth."
On the markets this morning, the FTSE 100 has opened the week down 0.5% to 7,322pts.
Greggs shares have surged 14.4% so far this morning to 2,026p, though still well short of summer highs that reached 2,496p.
Other risers include Premier Foods (PFD), up 3.6% to 34.5p, Imperial Brands (IMB), up 1.6% to 1,802.6p, C&C Group (CCR), up 1.4% to 387.5p and Carr's Group, up 1.4% to 145p.
Fallers so far today include Marks & Spencer (MKS), down 2.5% to 181.4p, Ocado (OCDO), down 1.7% to 1,169p and DS Smith (SMDS), down 1% to 379.4p.
This week in the City
The City diary looks slightly quieter this week after a flurry of results in recent weeks, but there are still notable updates from Asda and Premier Foods in the calendar.
Tomorrow sees half year results from Premier Foods (PFD) which are expected to include an update on the strategic review Premier Foods has been running since former boss Gavin Darby stepped down earlier this year. Having failed to achieve an acceptable sale price for Ambrosia in the spring, Premier is expected to explore the sale of other brands.
Also tomorrow B&M European Value Retail (BME) will post its interim earnings, while in the US meat giant Tyson Foods posts its full year earnings.
Wednesday brings a third quarter trading update from Coca-Cola HBC (CCH).
Thursday sees the publication of third quarter results from Walmart (WMT) and its UK supermarket subsidiary Asda.
In economic news, preliminary UK GDP figures for the third quarter will be published later this morning as well as official data on manufacturing and industrial production.
Monthly UK inflation figures will be posted on Wednesday, while official ONS retail sales will be published on Thursday.