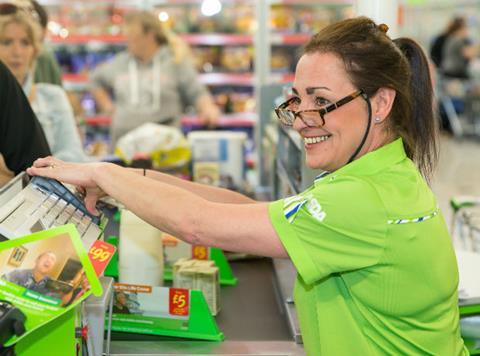 Top story
Supermarket prices have stayed flat year on year, but there are signs food price inflation could be creeping back into the market after close to a year of stagnant prices.
The Grocer Price Index, collated for The Grocer by Edge by Ascential from over 63,000 individual SKUs, showed annual price inflation of 0.1% in June – the same level as May.
This marks the 12th consecutive month inflation has been within 0.5 percentage points of zero after the post-Brexit vote inflation ebbed out of the market in the summer of 2017.
Despite the unchanged headline inflation measure, however, there are some signs prices are beginning to increase across the industry.
In June three of the four major supermarkets, as well as Waitrose, all recorded a rise in overall annual prices.
The headline GPI number was only suppressed by Asda's 0.5% year-on-year drop in prices – the eighth time in the past nine months the UK's price leader among the mults has recorded annual deflation.
Tesco (TSCO) inflation rose for the second consecutive month for the first time this year with inflation of 0.1%, while Sainsbury's (SBRY) posted its highest rate of inflation since August 2018, with prices up 0.2% year on year. Inflation at Morrisons (MRW) dipped back to 0.2% from 0.9% in May, though the supermarket is yet to record a single month of deflation since April 2018.
The full story will be on thegrocer.co.uk/finance later today.
Morning update
This week's edition of The Grocer contains The OC&C Global 50 report on the fortunes of the world's largest consumer companies.
The report shows the global fmcg giants have rediscovered organic growth as the measures they have taken to address competitors and shifting consumer tastes have begun to bear fruit.
It found that organic growth improved to 3.2% in 2018, up from 2.6% in 2017 and just 1.3% in 2016.
While 1.4 percentage points of this growth was driven by higher prices and shifts to more premium products, 1.8 percentage points was due to organic volume growth.
It was also the first time in a number of years that organic volume growth was significantly above global population growth of 1.1%.
Check out thegrocer.co.uk/finance for the full feature and breakdown later this morning.
Also in The Grocer this week, bakery giant Warburtons swung to an eight-figure annual loss as it soaked up significant restructuring costs from the continued slump of the traditional bread market.
Plus, the opening of a new flagship store in St Helens helped food surplus retailer Company Shop post a double-digit increase in profits, botanical drinks start-up No.1 Rosemary Water has raised £1m from new investors to take its 2019 fundraising to over £5m as it seeks to grow exports and tap the world of mixer sodas and more.
On the markets this morning, the FTSE 100 has fallen back 0.2% to 7,588.4pts.
Early risers include McColl's (MCLS), up 2.5% to 64.6p, Bakkavor, up 1.9% to 118.2p and Nichols (NICL), up 1.3% to 1,670.6p.
Fallers include FeverTree (FEVR), down 2.6% to 2,133p on top of yestserday's falls, Associated British Foods (ABF), down 0.8% to 2,442p and DS Smith (SMDS), down 0.7% to 364.7p.
Yesterday in the City
The FTSE 100 edged up 0.1% to 7,603.6pts yesterday to consolidate its gains for the week.
Associated British Foods (ABF) ended the day up 0.7% to 2,462p after announcing its third quarter trading update and revealing a like for like falls in quarterly sales at Primark due to the poor weather – though clothing sales have bounced back into growth in June.
C&C Group (CCR) was up 4% to €4.10 yesterday as it revealed it is targeting double digit growth this year and will end its Dublin listing for admission to the FTSE index.
Other risers included Premier Foods (PFD), up 3.8% to 35.5p, Hotel Chocolat (HOTC), up 2.5% to 353.5p, McBride (MCB), up 2% to 80.5p, WH Smith (SMWH), up 1.8% to 2,078p and Majestic Wine (WINE), up 1.1% to 273p.
Coca-Cola HBC (CCH) dropped 6.7% to 2,867 as it traded ex dividend yesterday. FeverTree (FEVR) was down 6.3% to 2,190p, McColl's (MCLS) fell 3.1% to 63p, AG Barr (BAG) fell 1.9% to 908p, PayPoint (PAY) dropped 1.8% to 930p and Imperial Brands (IMB) was down 1.4% to 1,957p.