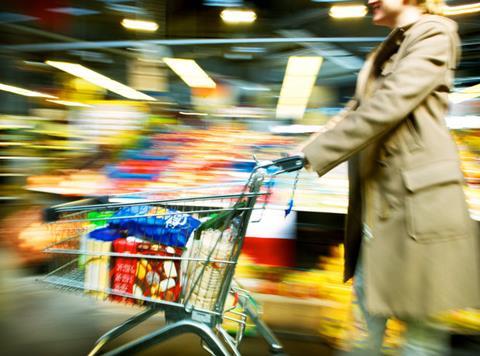 Top story
UK supermarkets saw the 'green shoots' of recovery in February, with small but positive growth in as total till sales improve to 0.7% in the last four weeks, according to Nielsen.
Notably fmcg sales at the top four supermarkets returned to growth in the last four weeks, despite sales in general merchandise declining by 2.9%.
Whilst the wet and windy weather caused some short-term disruption mid-month, sales during the week ending 15th February peaked at 1.6%, with Valentine's Day helping to boost sales in a number of categories in the last four weeks, including confectionery (4.8%), bath and shower products (11%), and pre-mixed alcoholic drinks (10%).
Similarly Kantar found year-on-year supermarket sales grew by the fastest rate since November last year, at 0.7% over the past 12 weeks.
Across the market, recent news reports around coronavirus saw consumers take steps to ward off colds and flu, accelerating sales of hygiene and health products.
Kantar said Sainsbury's (SBRY) was the only one of the traditional large grocers to increase year-on-year sales, with spend up by 0.3% as it returned to growth for the first time since October 2019.
Among the rest of the big four, sales at Tesco (TSCO) and Asda dipped by 0.8% and 1.2% respectively. Meanwhile, Morrisons (MRW) sales were 2.0% lower than the same period last year, and as a result its market share fell from 10.4% to 10.2%.
Nielsen also found that Sainsbury's (+0.6%) was once again the only supermarket of the 'Big Four' to experience growth, helped by new shoppers, more visits and the launch of 'Nectar Prices'. Tesco again was the best of the rest, down 0.4% with Asda sales down 0.8% and Morrisons down 1.8%.
Sales at Lidl remained strong, growing by 10.5%, helped by new store openings since Christmas 2019. The Co-operative (+2.4%), Marks and Spencer (+1.3%) and Iceland (+1.7%) also experienced an increase in sales. Meanwhile, online grocery experienced a growth of +6%.
Mike Watkins, Nielsen's UK Head of Retailer and Business Insight, said: "British grocery retailers will be pleased that since experiencing the lowest growth over the Christmas period since 2014, it appears that we are finally starting to see the green shoots of improvement.
"Despite dominating headlines, the impact from the spread of the Coronavirus has so far been limited, at this point restricted to a growth in sales for multi-purpose surface cleaners, which are up 8% over the last four weeks. However, retailers would do well to keep an eye on this, as there is potential for consumers to begin stockpiling canned goods and other household cleaning products in the weeks to come."
Morning update
Greggs (GRG) has posted a jump in annual sales and profits following an 'exceptional' year for the food to go chain, but admitted it has seen a 'significant' slowdown in sales in February due to stormy weather.
The bakery chain posted total sales growth of 13.5% in the year to 31 December up to £1.17bn, driven by company-managed like for like growth of 9.2%.
That level of like for like growth was significantly higher than the 2.9% recorded in 2018.
Greggs said that, despite significant increases in wage and pension costs, the strong sales growth in 2019 converted to improved profitability.
Underlying pre-tax profit, excluding exceptional items, grew by 27.2% £114.2m, while including exceptional items saw pre-tax profits grow to £108.3m from £82.6m.
During the year Greggs opened 138 new shops with 41 closures, bringing its total to 2,050 shops trading at 28 December 2019
It said its 'exceptional performance' was "founded on transformational changes made across multi-year strategic investment programme".
Customer visits began to build during 2018 and then stepped up again, with the successful launch of its new vegan product lines in January 2019 receiving widespread media coverage
Product development drove quality, sustainability, variety and brand appeal, while it also made significant progress in delivery of supply chain investment programme, with benefits ahead of plan.
It is also developing 'Next Generation Greggs' programme aimed at increasing customer loyalty, choice and access to Greggs across multiple channels.
However, a "very strong" start to 2020 in January, has fallen off with a significant slowdown in February due to storms
Company-managed shop like-for-like sales are up by a more modest 7.5% in the nine weeks to 29 February 2020.
CEO Roger Whiteside commented: "2019 was an exceptional year of progress for Greggs, during which we experienced a sustained increase in customer visits as increased awareness and appreciation of our brand gathered momentum. Our exceptional performance was founded on the changes that we have made across our multi-year strategic investment programme, which has delivered transformational change across the business and has now set us up for the next phase of growth.
"We made a very strong start to 2020 in January, but in February saw a significant slowdown in sales growth as a result of the storms that have affected the UK. There is some uncertainty in the outlook, particularly given the potential impact of Coronavirus. This aside we expect to make year-on-year progress and will do so from a strong financial position, supporting our investment for further growth whilst also delivering good returns for all stakeholders."
Greggs added that it will consider capacity for special dividend at time of interim results.
Elsewhere, former Asda CFO Alex Russo has been appointed CFO at B&M European Value Retail (BME).
He will join the Company on a mutually agreed start date which will be no later than June 2021.
Russo has had a successful career with UK and International retailers including Asda, Tesco, and Kingfisher. He is currently the group finance director of UK retailer Wilko, having previously spent five years as an executive director and CFO at Asda.
He will succeed Paul McDonald as the CFO following Paul's decision to retire from the business in 2021 after more than 10 years in the role to pursue a career in non-executive roles. McDonald will remain in post until Russo has joined and for a handover period with Alex before stepping down.
Chairman Peter Bamford said: "I am delighted that Alex Russo has agreed to join the Board of B&M. His previous roles with leading retail businesses in the UK and internationally brings a valuable level of experience to the Board as our business continues to grow at a significant rate. Paul McDonald has done an excellent job in that role and we wish him well for the future."
CEO Simon Arora added: "I am delighted to have found a successor to the CFO with the background experience and skills which Alex has from his time with retailers operating in International as well as UK markets. I would like to thank Paul for the contribution he has made for over a decade as B&M's CFO both while it was in private ownership and since the flotation in 2014. The business has grown at a tremendous rate over that period and he has played a key role as part of the management team in relation to that success."
On the markets this morning, the FTSE 100 has continued its recovery, rising 2.3% to 6,804.5pts.
Early risers include British American Tobacco (BATS), up 3.8% to 3,113.5p, Marks & Spencer (MKS), up 3.6% to 163p, PayPoint, up 3% to 860p and DS Smith (SMDS), up 3% to 325.7p.
Fallers so far include McColl's (MCLS), down 2.1% to 33.4p, Bakkavor, down 1.7% to 104p and Greggs, down 0.2% to 2,086p after this morning's annual resuts.
Yesterday in the City
A topsy-turvy day in the City saw the FTSE 100 close 1.1% higher at 6,654.8pts after looking like it was sliding further into the red at lunchtime.
A number of grocery retailers were amongst the market's biggest climbers yesterday, recovering some of the ground they lost after a torrid week.
Ocado (OCDO), was back up 5.2% to 1,119.5p, Morrisons (MRW) up 5.2%t o 180.1p and Sainsbury's (SBRY) up 4.4% to 204.3p.
There were a number of FTSE 100 recoveries in addition to the grocers, with Unilever (ULVR), up 3.6% to 4,320p, Diageo (DGE), up 1.7% to 2,811.5p and Coca-Cola HBC (CCH), up 1.7% to 2,515p.
Other risers included McColl's (MCLS), up 3.5% to 34.1p, Domino's Pizza Group, up 2.7% to 303.9p, Glanbia (GLB), up 2.5% to €10.69, PZ Cussons (PZC), up 2.2% to 185p and Britvic (BVIC) up 1.6% to 866.5p.
Yesterday's fallers included SSP Group (SSPG), down 6.6% to 473.5p, Hilton Food Group (HFG), down 6.5% to 965p, Bakkavor, down 4% to 105.8p, Marston's (MARS), down 2.5% to 87.8p, Premier Foods (PFD), down 2.4% to 32.1p and British American Tobacco (BATS), down 2% to 3,000.5p.