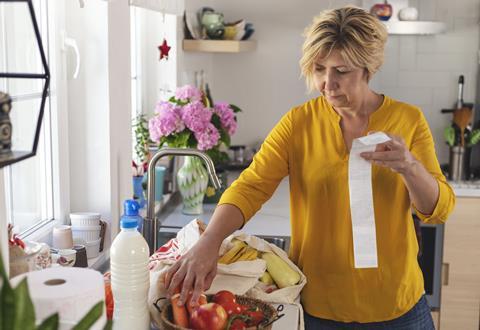 Top story
Annual shop price inflation dropped to 6.9% in August as food inflation continues to decelerate, albeit food price growth remains in double digits.
According to the monthly BRC-NielsenNIQ shop price index, annual retail inflation fell back to 6.9% last month from 7.6% in July.
This figure is the lowest since October 2022.
The drop was driven by a sharp deceleration in food inflation, which dropped almost two percentage points to 11.5% from 13.4% during the month.
This is the lowest figure since September 2022 and is the fourth consecutive monthly deceleration in the food category.
Fresh Food inflation slowed further in August, to 11.6%, down from 14.3% in July, the lowest since last August and below the three-month average rate of 13.8%.
Ambient Food inflation slowed more gently, falling to 11.3% in August, down from 12.3% in July. This is below the 3-month average rate of 12.2% and is the lowest since January 2023.
Non-Food inflation remained unchanged at 4.7% in August, which was below the three-month average rate of 5.0%.
BRC CEO Helen Dickinson commented: "Better news for consumers as shop price inflation in August eased to its lowest level since October 2022. This was driven by falling food inflation, particularly for products such as meat, potatoes and some cooking oils. These figures would have been lower still had the Government not increased alcohol duties earlier this month. Across Non-Food categories, toiletries and cosmetics saw price growth ease as many key components became cheaper, meanwhile inflation for clothing and footwear increased as retailers unwound their extensive summer sales.
"While inflation is on course to continue to fall thanks to retailers' efforts, there are supply chain risks for retailers to navigate. Russia's withdrawal from the Black Sea Grain Initiative and its targeting of Ukrainian grain facilities, as well as poor harvests across Europe and beyond, could serve as potential roadblocks to lower inflation. A potential £400m hike to business rates bills from next April would certainly jeopardise efforts to tackle inflation unless the Chancellor intervenes."
Mike Watkins, head of retailer and business Insight, NielsenIQ, added: "The unpredictable weather of recent weeks has dampened consumer demand with some high street retailers increasing promotional activity and food retailers continuing to extend price cuts, as the inflationary pressure coming from supply chains continues to lessen.
"Looking ahead, a NIQ survey shows that 60% of households expect to be severely or moderately impacted by rising household costs in the coming months so once back from summer holidays, we expect consumers to remain cautious about discretionary spend even as inflation decelerates."
Morning update
It's a quiet morning on the markets after yesterday's Bank Holiday in England.
SSP Group has announced it has agreed new contracts with Swedavia which will see it open a total of ten food and beverage units at airports across Sweden.
SSP's partnership with Swedish artisan bakery, Gateau, is being further developed with four new units opening across Stockholm Arlanda. At Luleå Airport, a new Cornelius Coffee unit offers a traditional café option, while at Malmö Airport, SSP will open Husman, with a specific focus on Swedish 'husmanskost' (traditional, home-cooked Swedish food) and Bistro & Bar, which will offer casual dining influenced by popular international and local flavours. Swedish coffee concept Fika & KIOSK will also be brought to Malmö Airport.
Björn Olsson, managing director at SSP Sweden, said; "In the many years we've been operating in Sweden, we've built strong relationships with the teams at Swedavia across the country. We've also spent this time developing innovative concepts, inspired by the regions in which they are located as well as fostering partnerships with a range of local-favourite brands that we can bring to airports and rail stations across the country.
"We know that passengers want to have truly local experiences as they travel and these new concepts and brilliant brand partnerships give them a genuine opportunity to engage with Swedish food and drink culture."
Charlotte Ljunggren, Chief Commercial Officer at Swedavia, added: "It's important for us to offer a selection of food options at different price points, and our ambition is always to offer both high quality and value for money. We also want to spotlight the Swedish coffee culture – fika – and Gateau can positively contribute to this aspiration."
On the markets this moning, the FTSE 100 has jumped 1.4% to 7,441.7pts so far this morning.
Risers include Just Eat Takeaway.com, up 5.6% to 1,114.4p, Ocado Group, up 4.4% to 774.2p, Britvic, up 3.8% to 880p and THG, up 3.7% to 94.1p.
The very few fallers include Wynnstay, down 0.3% to 413.6p and Coca-Cola Europacific Partners, down 0.3% to €58.60.
This week in the City
Scheduled company news remains thin on the ground this week.
The week is highlighted by the quarterly review of the FTSE index, which will be announced tomorrow evening with Marks & Spencer expected to retake its place in the FTSE 100 after a recent share price rally.
Elsewhere, German food delivery player Delivery Hero will release its half year results tomorrow morning.
French spirits giant Pernod Ricard will post its fourth quarter and full year annual sales performance on Thursday. Campbell Soup Co is scheduled to release its Q4 results in the US on Thursday.