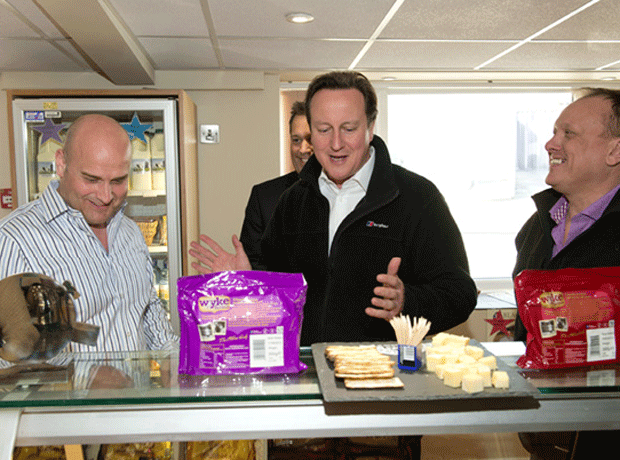 The Conservatives today promised to work with the food industry to develop a 25-year-plan to grow and sell more British produce, if they win the General Election.
The party's manifesto, launched by David Cameron in Swindon today, unveiled plans for a Great British Food Unit to promote food exports.
The body would help trademark and promote local foods around the world and back British food at home, guaranteeing that all central government departments purchase food to British standards of production by the end of the next parliament, it said.
The Tories' plans also include allowing farmers to smooth their profits for tax purposes over five years, up from the current two, to counter income volatility.
They also promised to treble the number of apprenticeships in food, farming and agri-tech as well as support a "science-led" approach on GM crops and pesticides.
And they defended the strategy to eradicate bovine TB, including the controversial badger cull.
"We will liberate farmers from red tape by coordinating all visits through a single Farm Inspection Taskforce, which will involve farmers themselves and use data from existing industry schemes, such as Red Tractor," says the manifesto.
"We will push for further reform of the EU's Common Agricultural Policy.
"We will also help consumers to buy British by pushing for country of origin labelling in Europe, particularly for dairy products, following on from our success with beef, lamb, pork and poultry."
The Tories also promised to "champion" Groceries Code Adjudicator Christine Tacon, to ensure farmers "receive a fair deal from the supermarkets," although it did not go as far as Labour by promising to extend her role to cover suppliers.
The Conservatives promised to slash £10bn more red tape over the course of the next parliament if they win the General Election.
Claiming to be the first government in post-war history to reduce the burden of regulation, the Tories said they aimed to make Britain "the best place in Europe and one of the top five worldwide" to do business in by 2020.