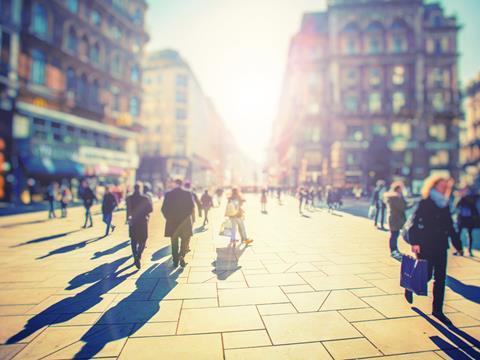 Top story
Consumer spending growth is set to slow down as people become more cautious amid political uncertainty, according to financial services giant PwC.
The firm's latest UK economic outlook report, released today, predicts spending growth to slump to 1.4% in 2019, from 1.9% last year, as shopping behaviour becomes more cautious.
Consumer behaviour had remained "remarkably resilient" so far this year, PwC said, and growth could pick up towards the end of the year if an orderly Brexit is secured.
The implications of Brexit, slower projected jobs growth, the prospect of a gradual rise in interest rates and subdued house price growth, are all expected to drive slower spending despite real wage growth.
"Consumer spending has so far been remarkably resilient to political turmoil, but it has become sufficiently acute for us to expect more cautious spending trends in the first half of this year," commented senior economist Mike Jakeman.
"If an orderly withdrawal from the EU can be achieved, however, spending growth should pick up in the second half of 2019 and in 2020."
The UK's overall economic growth is due to slow down in 2019, with UK GDP growth likely to dip to 1.1% in 2019 before rising to around 1.6% in 2020, the report said.
PwC is the latest organisation to predict low growth for the UK, following the Bank of England, the Office for Budget Responsibility, the Organisation for Economic Co-operation and Development.
Real household disposable income is predicted to rise to 2% by 2020, but remain below levels seen before the financial crisis of 2008 as Britain continues its struggle with productivity.
John Hawksworth, chief economist at PwC, said: "Our main scenario for UK GDP growth in 2019 has been revised down from 1.6% to 1.1% since our last report in November, reflecting growing evidence of a negative drag on business investment as well as a less favourable global economic environment.
"Brexit-related uncertainty is likely to dampen growth in all regions in 2019, but there could be some acceleration in growth across the UK in 2020 if an orderly Brexit can be achieved.
"In this scenario, the Bank of England could resume very gradual interest rate rises later in 2019 or in 2020, but it is unlikely to take any action until the fog of uncertainty has cleared."
Morning update
Haagen-dasz maker General Mills saw shares jump 4% to $49.2 after it boosted its profit guidance on the back of price increases and the acquisition of Blue Buffalo pet food.
Sales jumped 8% to $4.2bn in the quarter to 24 Feb, boosted by the pet food brand it acquired in April 2018.
Profits also jumped, rising 14% on last year to $651m, amid cost-cutting and price increases.
Despite global sales growth, the Europe and Australia region saw an 8% decline in revenue to $433m, driven largely by unfavourable currency effects.
Operating profits in the area also sunk, falling 4% to $81m dollars as cost-cutting initiatives were offset by "currency-driven inflation on products imported into the U.K".
"We had a strong third quarter, with positive organic sales growth and significant operating margin expansion," said General Mills chairman and CEO Jeff Harmening.
"Our year-to-date performance and fourth-quarter plans give us confidence that we will meet or exceed all of our key fiscal 2019 targets.
Elsewhere, Science in Sport (SIS) has applied for more than 240,000 new shares, at 10p each, in its latest equity drive.
The announcement comes the day after it revealed a £2.5m loss for 2018, despite surging sales on the back of its PhD nutrition acquisition.
The FTSE 100 has jumped 0.5% to 7,323pts this morning, ahead of today's interest rate decision from the Bank of England.
This morning's risers include Stock Spirit Group (STCK), up 3.4% to 234p, Unilever (ULVR), up 0.8% to 4,325.9p, and GlaxoSmithKline (GSK), up 0.8% to 1,536.6p.
The early fallers include CARR's Group (CARR), down 10% to 135p, Domino's Pizza Group (DOM), down 2.5% to 230.2p, and Compass Group (CPG), down 1.3% to 1,723p.
Yesterday in the city
An unpredictable day in the markets ended with the FTSE 100 tailing off to a 0.4% decline to 7,291pts amid continued Brexit uncertainty.
Yesterday, AIM-listed sports nutrition supplier Science in Sport (SIS) moved up just 0.5p to 52p after it slipped to a £2.5m loss amid significant investment.
Group sales jumped 37% to £21.3m for the year to 31 December 2018, up from £15.6m, as it was buoyed by its acquisition of PhD Nutrition in December.
Yesterday's big risers included Total Produce (TOT), up 3.1% to 149.5p, Finsbury Food Group (FIF), up 2.1% to 72.5p, and Treatt (TET), up 1.5% to 412p.
The day's big fallers included Carr's Group (CARR), down 3.2% to 150p, Gusbourne, down 2.9% to 66.5p, Marks & Spencer (MKS), down 2.7% to 269.6p, and McColl's (MCLS), down 2.3% to 76.4p.