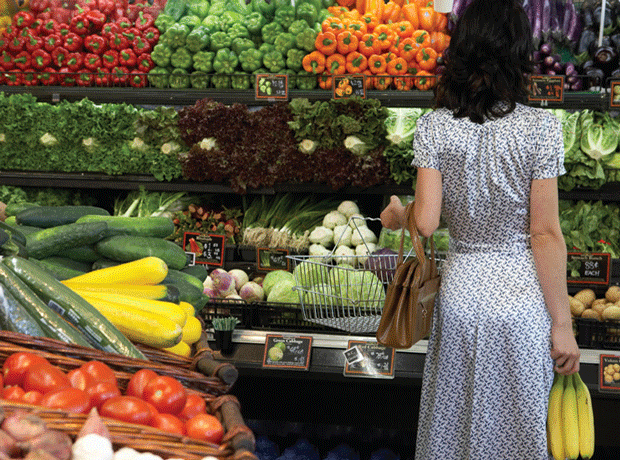 Food prices fell by the highest rate ever recorded by the BRC-Nielsen Shop Price Index in January as the New Year price war took hold.
The index found that food prices fell by 0.5% year-on-year in January after reporting inflation of 0.1% in December.
Overall shop prices reported deflation for the 21st consecutive month, but the rate of decline decelerated to 1.3% in January from 1.7% in December.
Mike Watkins, head of retailer and business Insight, Nielsen, commented: "Over the last six months we have seen food inflation falling and as we start 2015, we now have food deflation.
"Whilst falling prices are of course welcomed by shoppers, the impact is that there is only marginal value sales growth across the industry. With further price cutting expected by the major supermarkets the near term outlook is for the continuation of a low growth trading environment. "
The sharp decline in prices was driven by fresh food which also reached a new record low in January, falling 1.0% and outweighing a marginal rise of 0.1% in the ambient food. Downward pressure particularly came from the meat, vegetables, convenience milk, and cheese & eggs.
The 0.5% fall in food prices was the fastest rate since the inception of the series in December 2006. Overall food inflation has now averaged just 0.4 per cent in the last 12-months.
While New Year price investments from the major supermarkets have pushed down average prices, the prices of the majority of the agricultural commodities are also continuing to fall.
The Bloomberg Commodity Index, which tracks the prices of 22 commodities, fell 0.3 percentage points last week to 99.84, the lowest point since August 2002. Oil prices have clearly fallen significantly since summer 2014, but wheat and corn prices have also fallen to three-month lows.
BRC Director General, Helen Dickinson, said: "Deflation doesn't always translate into bad news for retailers."
"With the outlook for inflation low, the jobs market robust and rising real incomes gathering pace, the outlook for consumer spending looks positive," she added: "The Producers Price Index (which tracks the cost of raw materials to producers) remains deflationary, so retail businesses will continue to see decreases in their own input costs for the foreseeable future. To remain competitive, retailers will continue passing these savings on to the consumer."