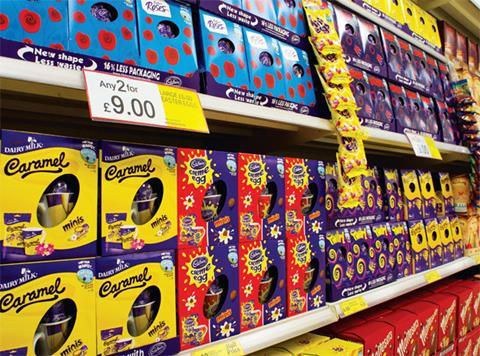 The UK grocery market recorded its best three months of sales since September 2013, according to market share figures from Kantar Worldpanel.
Kantar found that during the 12 weeks ending 23 April 2017 the overall market grew by 3.7% – the fastest rate for over three and a half years and worth almost £1bn in additional sales to the grocery sector.
All ten major retailers are in growth for the first time since that date, which was a the last time like-for-like grocery inflation was as high as it is now.
Overall, year-on-year takings at supermarket tills during the four weeks ending 22 April rose 8.6%, while the volume of goods sold rose 3.2%, according to figures also released this morning by Nielsen.
Excluding the distortion caused by the late timing of Easter, annual growth across the last 8-week period (so last year's Easter was included) saw sales rise 2.8%, which represents the highest growth this year.
Kantar found Morrisons (MRW) was the fastest grower of the big four, with sales up 2.2% over the 12-week period. Tesco (TSCO) and Sainsbury's recorded growth of 1.9% and 1.7% respectively, while Asda increased year-on-year sales for the first time since October 2014 with 0.8% growth.
The discounters were again the stand-out performers, with Aldi up 18.3% and Lidl up 17.8%. The best of the rest was Ocado with growth of 10.8% and Iceland, up 9.3%.
Nielsen found that Tesco was the big four winner, up 2.1% over the 12 week period, followed by Morrisons at 1.9%, Sainsbury's 1.1% and Asda's sales were flat.
Mike Watkins, Nielsen's UK head of retailer and business insight said this grocery data should counterbalance the recent "rather downbeat" stories about consumer spend in general.
"Whilst consumers are more likely to be uncertain around spend, we don't expect a dramatic change in grocery shopping behaviour this year," he said.
"As long as real incomes don't come under too much pressure and employment remains high, shoppers will begin to adapt to moderately rising grocery prices, albeit this could be by modifying how much they spend in other retail channels."
Fraser McKevitt, head of retail and consumer insight at Kantar Worldpanel, added: "A strong Easter also contributed to the market's growth this period. In the past 12 weeks British shoppers splashed out £325 million on Easter eggs with almost three quarters of the population buying at least one.
"Consumers plumped for more premium confectionery lines this year – the average price paid for an Easter egg rising by 8.6% to £1.65 – while 20 million packs of hot cross buns were bought in the Easter week alone."
Kantar added that grocery inflation now stands at 2.6% for the 12-week period ending 23 April 2017.