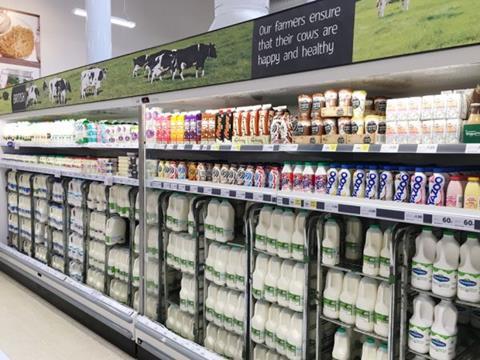 Supermarket price inflation has soared to its highest level for five years as market leader Tesco has stepped up measures to pass on rising costs to shoppers.

The Grocer Price Index, collated by Brand View from more than 60,000 supermarket SKUs, jumped from 2.4% to 2.9% in the month to 1 October - the highest level recorded since June 2012.

Tesco's rate of annual price increases once more was comfortably the largest of the big four, despite it this week stating in its first-half results that rate of inflation was "around 1%" less than the rest of the market.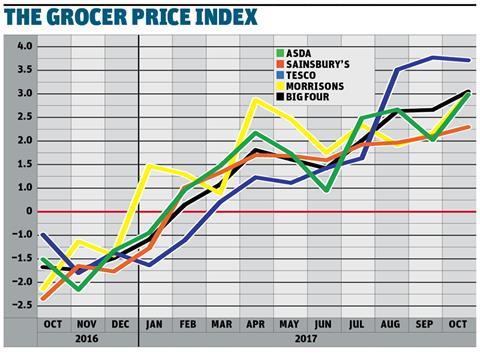 The GPI backs Tesco's claim that it was slower than rivals to raise prices, with Tesco showing the lowest rate of price inflation in six of the first seven months of 2017. However, this month is the third consecutive period that Tesco has posted the fastest rate of inflation among the big four, suggesting it has only managed to hold off price increases to cope with rising costs until the second half of the year.

Tesco's rate of annual inflation remained at 3.7% last month, equalling its highest rate of price increases since April 2012.

Year on year, Tesco's prices across biscuits, confectionery and snacks are up 7.1%, dairy prices are up 5.3% and chilled goods are 4% more expensive.

Price inflation at both Morrisons and Asda increased to 2.8% (from 1.8% and 1.6% respectively), while prices were up 2% at Sainsbury's and 1.9% at Waitrose.

Overall supermarket shelf prices have reached their highest level since the month to 1 July 2015 - with recent price increases wiping out more than two years of deflation.

All of the 14 GPI categories are now in annual inflation after soft drinks prices edged up 0.2% year on year - the category's first annual increase since 2014. This month is the first time since August 2013 that every category is experiencing rising prices.

In the month to 1 October, dairy overtook meat, fish and poultry as the biggest drivers of grocery inflation.

Dairy prices were up 5.9% year on year having been up just 2.6% two months ago. Deli was the next biggest driver, rising 4.6% while inflation for meat, fish and poultry edged back from 4.7% to 4.5%.

Frozen, baby goods, bakery, chilled and biscuits, confectionery and snacks all displayed annual inflation of 3.5% to 3.7% in the period.

On a month-on-month basis, prices crept up another 0.3% - led by frozen and bakery - a fifth consecutive period of monthly price increases.

However, UK consumers are still enjoying considerably cheaper food prices than was seen at the peak of the pre-deflation era in mid-2014.

The GPI hit its highest absolute level in May 2014 and overall grocery prices remain 3.2% lower than that peak despite the recent inflationary jump.