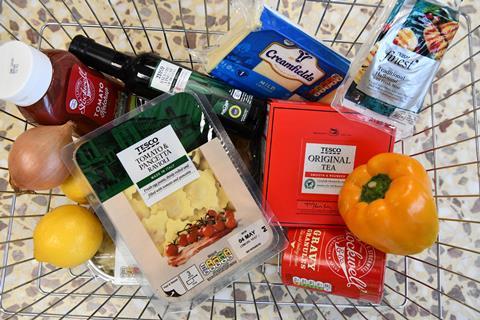 Supermarket inflation fell back to zero in September, bringing an end to a year of rising grocery prices.
The Grocer Price index, collated by Edge by Ascential from more than 61,000 SKUs across the big four supermarkets, showed overall annual price inflation slowing from 0.3% in August to zero in September.
On the monthly basis, overall prices were 1% lower in September than they had been in August.
The last time the overall GPI was at zero or below was September 2019, when prices were down 0.1% year on year.
The outbreak of the coronavirus drove a temporary spike in price inflation to 2% in April, but a reduction in customer stockpiling and price action from key supermarket players has driven inflation back out of the market.
Tesco's EDLP initiative has pushed it back into annual price deflation of 0.8%, increasing further from the deflation of 0.5% recorded in August.
Morrisons, which has also cut prices on more than 400 household essentials, moved back to inflation of zero last month, compared with 0.6% inflation in August.
Asda also fell back to zero annual inflation from 0.3% in August, which marked its first time out of annual inflation in six months.
Sainsbury's was the only major grocer with price hikes, with inflation at 0.5%, down from 1% in August. Sainsbury's has posted the highest rate of price inflation across the big four for each of the past four months.
Waitrose, not included in the headline GPI figure, had annual inflation of 0.1%.
Six of the GPI's 14 categories were in deflation, led by fruit & veg (–1.2%) and dairy (–0.9%).
Categories still in inflation included baby goods (2.1%), frozen (2.0%) and health & beauty (1.7%) and soft drinks (1.5%).