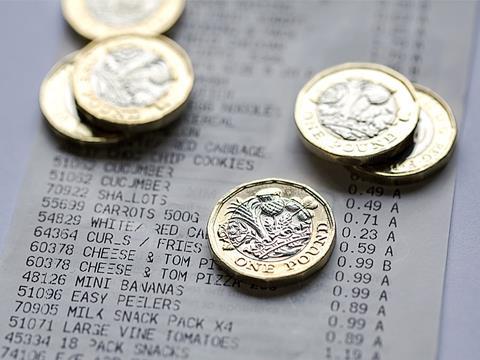 Inflation in the UK unexpectedly slowed to 2.6% in June as falling petrol and diesel prices more than offset higher food bills, official figured revealed today.
It is the first slowdown in the rate since October 2016 and the largest month drop since February 2015. A fall in fuel prices for the fourth consecutive months was the main driving factor for the dip in inflation, the Office for National Statistics said.
However, prices in all broad categories were higher in June 2017 than a year ago, with three showing their highest 12-month rate since 2013 or earlier: food and non-alcoholic beverages, furniture and household goods, and restaurants and hotels.
Food inflation jumped again in June with prices up 2.3% year on year as the cost of breads, cereals, dairy products and fish all increased.
Food prices have been rising since the EU referendum last year, mostly the result of the increase in input costs as the pound plummeted against the dollar and euro.
The pound fell again this morning after the surprise drop in UK inflation, down 0.4% to $1.3015 against the dollar.
"Today's fall in inflation is mainly due to drops in petrol and diesel prices," said ONS deputy national statistician Jonathan Athow. "However, the rate remains higher than in the recent past.
"Petroleum products were mainly behind the drop in the annual growth rate of factory gate prices. Likewise, crude oil was mainly responsible for the recent slowing of input price inflation, with both its dollar price down and some recovery in sterling."