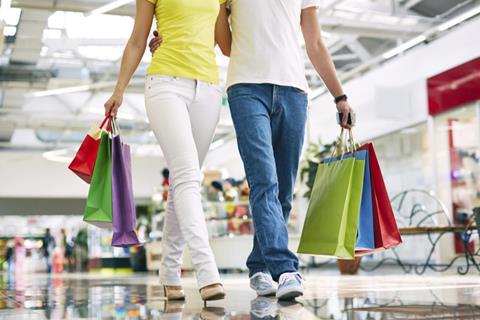 UK footfall recovered slightly in the third week of shops reopening in England and Northern Ireland, but were still down almost 50% year on year.
For the week to 4 July, UK footfall was 49.6% lower than the same period a year ago, according to the BRC Shoppertrack Footfall Monitor. This represented a slight recovery from a fall of 53.4% the previous week as shops, restaurants and pubs were allowed to reopen.
High street footfall declined almost 56%, from 58% the previous week, while shopping centres continued to be the worst-affected location, down 56.% this week and 60.7% the prior one.
Retail parks, being more open and hosting a larger percentage of supermarkets, saw footfall down 24.6% last week versus 28.4% the one before.
"It remains a long way back to normality for the retail industry; two weeks after most shops reopened in England, footfall is still only half what it was a year ago," said BRC CEO Helen Dickinson.
"The reopening of pubs, cafés and other hospitality businesses this Saturday does not appear to have benefited shops much, with the Saturday showing more modest growth than the days prior to these locations reopening.
"By European standards, the UK's recovery remains slow, and while safety measures introduced by retailers have been well received by customers, many shoppers are still reluctant to visit physical shopping locations."