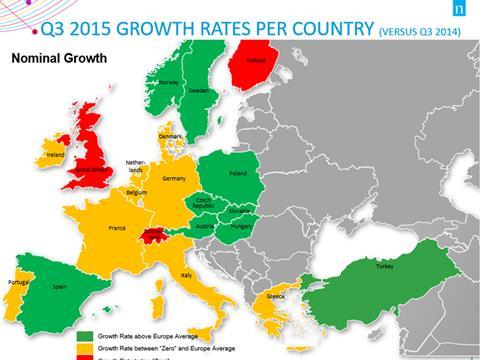 The supermarket price war has made the UK the 'one big blip' in a European fmcg market otherwise showing sustained growth, according to retail analysts Nielsen.
Average volume sales of fmcg goods purchased across 21 European countries has increased by 1.3% year on year, making it the sixth consecutive quarter of volume growth, according to data released today (16 November). The 1.3% volume hike was accompanied by an average 1.7% increase in prices, resulting in a nominal growth rate across Europe of 3%, reported analysts.
The UK has been the only one of the of the big five western European markets to suffer a drop in nominal growth, down 0.3% as a result of a 0.5% decline in volumes as value rose just 0.2%. In contrast, of the big five, Spain (3%) had the highest nominal growth, followed by Germany (2.3%). Only two other European countries experienced a decline in nominal growth, with Switzerland down 1.5% and Finland down 0.9%.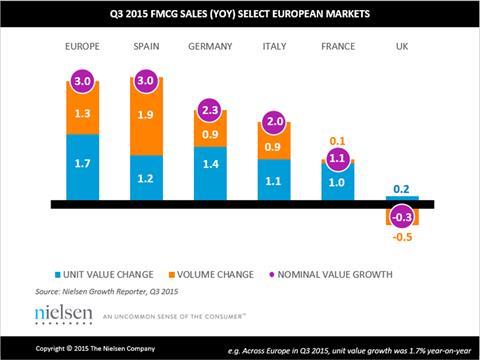 For the first time in more than a year, Turkey did not experience the largest increase in sales volume - Poland (5%) led the way, followed by Hungary (4.3%) and Austria (3.9%). The UK and Finland (both down 0.5%) were the only two to show a decline in sales volume.
"The last year has been characterised by stable price evolution and climbing volumes, so things are certainly heading in the right direction - in most countries," said Nielsen European director of retail insights Jean-Jacques Vandenheede. "The one big blip on the European radar is the UK, where a heavy and sustained price war by the supermarkets to combat the rise of the discounters is hitting takings at the tills."
Vandenheede added the UK price war was showing little sign of abating and was likely to continue well into 2016.
The highest nominal growth recorded in Q3 was in Turkey (12.4%), followed by Austria (5.9%) and Hungary (5.8%).