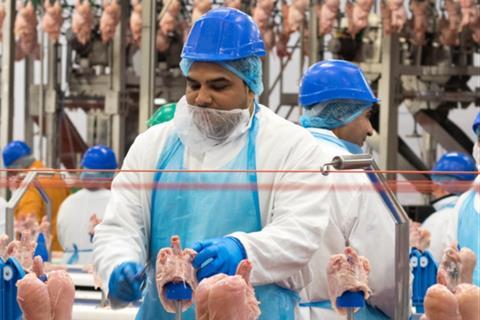 Poultry giant 2 Sisters Food Group has hailed the success of its divestment and restructuring programme after posting a significant increase in profitability in its latest accounts.
Lost revenue as a result of the company's recent divestments, along with an increase in costs associated with the coronavirus pandemic, meant parent Boparan Holdings saw turnover fall by 1.8% for the 53 weeks to 1 August to £2.69 billion, according to the processor's annual strategic report, seen by The Grocer.
However, the group experienced a significant improvement in profitability over the same period, with the "turnaround actions" deployed in its core 2 Sisters UK poultry business in particular helping the processor improve its operating profit before exceptional items from £4.5m during the previous accounting period to £39.9m.
Boparan also converted a £17.5m pre-tax loss into a £1.8m pre-tax profit this year, while Ebitda rose from £91.7m to £128.7m.
Growth was seen "across all divisions", with operating performance before exceptional items in the poultry business improving by £24.3m, from a loss of £7.4m to a profit of £16.9m.
Sales were down by 13.7% in Boparan's meals division, largely as a result of its disposal of the Manton Wood business in 2018. However, operating profit rose from £4.3m to £13m, driven by "performance improvements" within the business, the report added.
Elsewhere, sales were down in 2 Sisters' bakery division by 4.4%, driven by its disposal of the Matthew Walker Christmas pudding business in late 2019. But again, this also led to an improvement in profitability, up from £7.6m to £10m.
With the business securing a refinancing deal last week – through the raising of £475m-worth of new corporate bonds – and having also sold Fox's Biscuits to Ferrero in October, 2 Sisters was now a "much leaner and more efficient" business, CEO Ronald Kers told The Grocer.
"We've generated more than £700m in enterprise value from the disposals we've made in recent years," he added. "These results are the output of the good things we've done in restructuring the business."