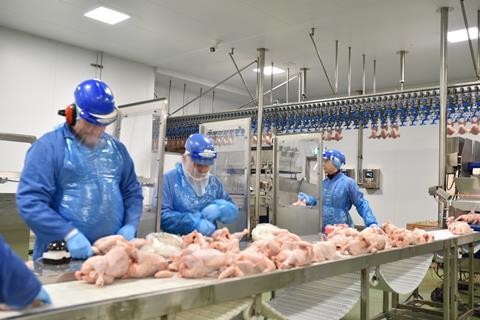 Poultry giant Avara Foods saw turnover dip slightly in the year to 31 May 2021, however, profitability improved, latest accounts have shown.
The processor reported sales of £1.19 billion in the accounts, posted at Companies House, representing a 1.1% fall on the previous year's turnover.
The results showed the fall in revenues could be attributed, in part, to a £17.5m reduction in turnover following the closure of Avara's duck business the previous year.
The business also faced a £5m outlay in additional Covid-related operating expenditure and £2.5m in additional administrative and logistics costs caused by Brexit. The financial performance of its turkey supply chain was also impacted by the pandemic – due to its "greater exposure to the foodservice sector", the supplier added.
However, it stressed service levels to customers and product assurance standards were maintained throughout the year, with demand for chicken strong throughout the period.
Meeting the 15%-20% increase in demand for fresh poultry products it faced at the height of lockdown had been achieved by "working collaboratively with our customers to optimise range, volume and factory capacity and upscaling direct recruitment to ensure operations were fully manned, despite higher levels of Covid-related absence", the accounts added.
And in what Avara CEO Andy Dawkins described as a "consistent" and "solid set of results", the business saw operating profits grow by 5% to £23m, while gross profit margin grew from 9.7% to 10.2%.
"Throughout the trading period we prioritised spend on our teams' safety and maintaining product throughput for our customers, even where this reduced margins," he added. "To deliver financial performance that is consistent with the year before, against a backdrop of such change, is a testimony to the focus and drive of the whole team at Avara."
However, he warned that the next 12 months were already proving "far more challenging", with the business seeing the pressure it began to face in the last quarter of the 2020/21 financial year due to labour shortages continuing, and resulting in a significant investment in pay last autumn.
"Added to labour, cost inflation, rising energy prices, the ongoing disruption of Covid-19 and seasonal Avian Influenza in the UK all hitting at the same time, it has created a perfect storm for our sector," he added.
"Navigating short term challenges is all about taking a long-term view and keeping focused on what's most important. For us, that means protecting the health and wellbeing of everyone at Avara, carrying out our business ethically and responsibly, running efficient supply chains focused on our customers and making targeted investments to automate our operations. Doing all of these things well will enable us to tackle the ongoing unprecedented challenges we face and set us up for future success."