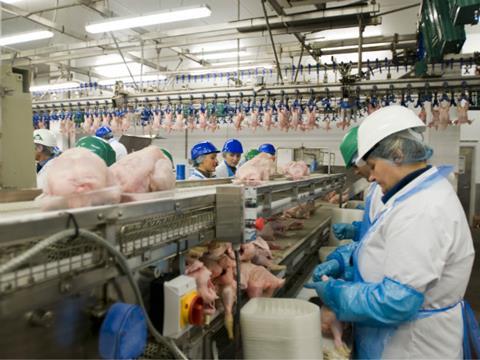 Retailer efforts to reduce the number of chickens found with the highest levels of campylobacter have continued to bear fruit, with contamination levels falling again, according to latest FSA survey results.
Data published today (25 February), for the second quarter of FSA testing from October to December 2015, revealed the percentage of supermarket chickens found with levels of campylobacter greater than 1,000 colony forming units per gram (cfu/g), had fallen from 14.9% during the previous quarter to 11%.
This was down from 19% of surveyed chickens during the same period in 2014, said the FSA, while the average number of tested chickens found with any presence of campylobacter also fell, from 74% between October to December 2015 to 59%.
The results were "heading in the right direction", said FSA director of policy Steve Wearne, and continued to show improvement on the previous year, with interventions including improved biosecurity, SonoSteam technology, and the trimming of neck skins introduced by some retailers to reduce levels of campylobacter helping deliver improved results.
But while progress had been made, retailers and their poultry processors were yet to meet the current agreed industry target which called for a reduction in the highest contamination levels to 7%.
"We must continue to build on this progress," added Wearne. "Retailers and processors must ensure the interventions that are working are embedded in industry practice, and we have also arrived at a point where consumers expect access to data about campylobacter. So the FSA must ensure its survey remains robust and work with industry to ensure as much sampling data as possible is available to the public."
The FSA also warned that developments in the trimming of neck skin - the most highly contaminated skin area - meant comparisons to the FSA's first year survey may potentially be more difficult in future quarters as most samples from the previous year will have analysed more neck skin.
It said it would "review the impact of this successful intervention to ensure the survey results remain robust".
Morrisons made the greatest gains in reducing instances of the most highly contaminated chickens after questioning the regulator's survey methodology during the previous quarter. It saw levels fall from 25.7% between July and September to just 5.4%.
"The FSA's results are in line with our own test results which show we are meeting the FSA's reduction targets," a spokeswoman said.
"Our suppliers have made significant investments in improved processing technology including the SonoSteam system," she added. "We are pleased with these latest results, but are not complacent, and will continue to work towards further reductions as a result of our programme."
Aldi had the second lowest instance of the highest levels of the bug at 7.3%, followed by Lidl at 8.5%. Tesco, which announced a drop from 9% to 7% based on internal data this week, was found to have 1.1% of its chickens with the highest levels of campylobacter, while Sainsbury's had the highest at 17.6%. However, the retailer claimed its own testing regime had shown a year-on-year fall in the highest contamination levels from 10.7% to 7.6%.
Morrisons also had the lowest level of total campylobacter contamination at 45.7%, followed by The Co-Op at 53.8% and M&S at 54.5%. Sainsbury's (65.7%), Lidl (64.9%) and Aldi (62.5%) had the highest levels of total contamination.