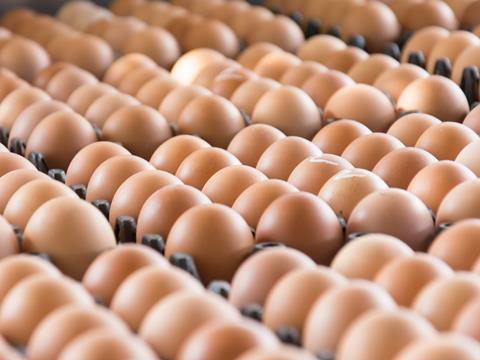 The British egg industry looks to have shrugged off last year's fipronil egg scandal according to data from the British Egg Industry Council, with retail sales during 2017 topping six billion for the first time in more than 40 years.
Despite the sector facing significant challenges after millions of eggs were withdrawn across Europe after the Fipronil scandal broke, UK shoppers look to have shrugged off any safety concerns.
The number of shell eggs bought by UK consumers grew by about 250 million in 2017, a 5% volume rise on 2016 [Kantar Worldpanel 52 w/e 31 December 2017]. The BEIC said volume sales grew even faster in the wake of updated FSA advice – which said pregnant women, infants and the elderly could safely eat raw and runny eggs if they were produced to the British Lion Code of Practice.
That advice was changed in October following publication of guidelines by the government's Advisory Committee on the Microbiological Safety of Food in July 2016, which proposed to relax 15-year-old guidance for vulnerable groups to avoid eating runny and raw eggs over fears of contracting salmonella.
December sales in particular performed well, rising by 9% in volume terms alongside an 8% increase in value, which was welcomed by BEIC chairman Andrew Joret, who attributed growth to a boost in consumer confidence.
"Just 15 years ago we were buying only just over four billion eggs - the rate of growth has been phenomenal and at this rate we could break the seven billion barrier by 2020," said Joret.
"Sales are up significantly for the 11th year running, and the recent change in egg safety advice is likely to lead to more record-breaking sales in 2018 as the good news continues to filter through to consumers. A £1m-plus marketing campaign is underway to make sure that message is delivered to consumers.
"When it comes to eggs, it's all good news - young people are eating more, consumer confidence in their nutritional benefits is buoyant, and importantly there is still plenty of room for it to grow further."
Fipronil scandal
The Fipronil scandal first emerged in July 2017, after high levels of the insecticide were discovered on several Dutch farms.
Millions of eggs were subsequently taken off shelves on the Continent during the weeks that followed.
While the UK was not directly exposed to contaminated shell eggs, UK food products containing contaminated eggs used as ingredients were affected by the scandal, prompting a series of recalls through the autumn.
In total, more than 60 products containing eggs were pulled from UK shelves after the FSA stipulated products made with eggs from implicated European farms must be withdrawn if egg made up more than 15% of the final product.
More than 20 million eggs were withdrawn across Europe.