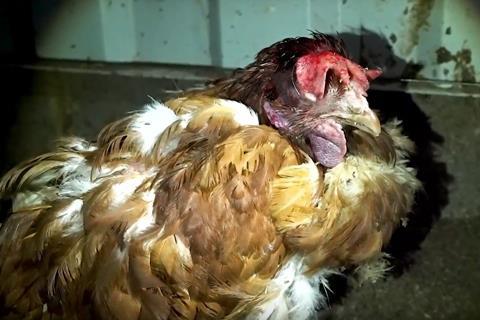 Concerns over animal welfare in the egg and poultry sector have surfaced once again, after an animal rights group released undercover footage alleging animal welfare abuses at a large egg farm in East Sussex.
Direct Action Everywhere accused Hoads Farm, which has supplied the big four, of "exploiting" its chickens and not adhering to the standards of RSPCA-assured or British Lion – the two certifications it holds.
Some 150 activists from the group then occupied the facility for much of Monday (27 January), before leaving at 4pm after having "liberated" 50 chickens, which it said would be moved to an animal sanctuary.
The group's undercover footage appeared to show chicken corpses that had been left for "many months" next to live hens as well as sick and wounded birds, one of which had been left bloodied after an apparent trauma.
Other images appeared to show cramped roosting conditions for the 32,000 chickens on the farm, which is described on its website as being "free-range", with the group claiming birds had limited outdoor access at the facility.
"We visited Hoads Farm multiple times over six months. We have taken action today that some may see as radical, but our actions must match the severity of what takes place behind those walls."
In response, Hoads Farm said it had launched a "full investigation" into the allegations.
"The imagery is by no means reflective of the hygiene and welfare standards on any of our farms. We question both the validity and integrity of the images portrayed," said a spokesman.
"A fully-qualified poultry vet visited the site yesterday and raised no concerns, apart from the consequences of the protesters' actions. We have also requested an audit from the RSPCA Freedom Foods, which has now been completed and stated the birds are in good health."
Both RSPCA Assured and British Lion Eggs, which have certified the farm, said they had temporarily suspended it from their schemes pending further investigation.
"We are shocked and appalled by this footage and we understand why people are upset," said an RSPCA spokeswoman.
"Any allegations of poor welfare issues on RSPCA Assured certified farms are taken extremely seriously, which is why we have suspended the farm whilst we urgently investigate."
Meanwhile, a British Egg Industry Council spokesman said: "BEIC can confirm that it has been made aware of footage released by an animal rights activist group today in relation to the welfare of hens at Hoads Farm. The farm has been suspended from the Lion scheme pending further investigations."
The farm has had listings for its eggs under the Hoads Farm name in Asda, Morrisons, Sainsbury's and Tesco, according to its website. In all barring Morrisons, the eggs were listed as being unavailable online at the time of writing.
"The welfare of our animals is extremely important. All our shell eggs are free-range from RSPCA Assured farms and we are investigating these allegations," said a Sainsbury's spokeswoman.
A Tesco spokesman described Direct Action Everywhere's footage as "deeply disturbing and unacceptable".
"We expect all brands sold at Tesco to uphold high animal welfare standards and will closely review the results of the investigations into this farm."
Asda and Morrisons were approached for comment.
This marks the latest in a string of animal welfare allegations against the egg and poultry sector in recent months.
In December, Gressingham Foods was accused of allowing its ducks to suffer painful deaths in unhygienic conditions after the release of undercover footage to the Daily Mail – something the major poultry brand "strongly refuted".
Meanwhile, over the summer months, Tesco was forced to investigate allegations of poor animal welfare practices at farms in its supply chain.
Moy Park also faced questions over its practices after an undercover investiagtion appeared to show chickens suffering. During the August heatwave, piles of dead chickens were observed outside facilities it owns in Lincolnshire.