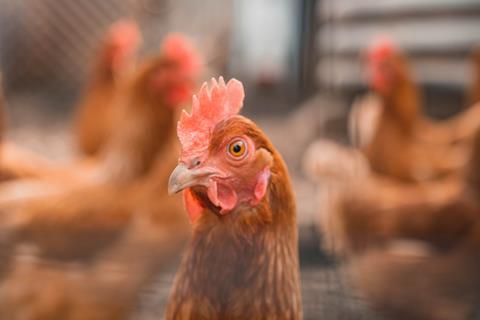 The free-range egg sector is teetering on the edge of collapse due to soaring production costs, the British Free Range Egg Producers Association has warned.
It said this week that many egg farmers were considering a "mass exodus" from the industry – in a move that would ultimately lead to egg shortages.
More than 70% of its members stated in a recent poll they would leave egg production within a year if price rises were not forthcoming, BFREPA said.
An additional 18% would make their decisions at the end of the current flock, with 51% of farmers seriously considering stopping production until the price they are paid improves.
Egg producers have been hit with rising costs across their supply chains, including a 50% rise in feed and 40% increase in energy prices. Rises have also been seen in fuel, labour and packaging.
But despite numerous warnings in recent weeks, the body said the UK's biggest supermarkets had "yet to increase the price of free-range and organic eggs to a level where many farms can break even".
This would soon create shortages, with "hundreds of millions of eggs" potentially absent from shelves every year, it warned.
BFREPA has asked every major retailer to increase the retail price of free range eggs by at least 40p per dozen (or 80p per dozen for organic), in a bid to pass on more cash to producers.
"Many of my members are losing money on every egg laid, and our data shows that even those who are making a small profit do not see a long-term future," said its CEO Robert Gooch.
"The appetite for eggs from the public is extraordinary, but I'm afraid we will see shortages of British free range and organic eggs on the shelves before long."
It comes as Rebeca Tonks, CEO of St Ewe Free Range Eggs pointed out that a takeaway coffee was typically more expensive than a dozen eggs, and stated that "the effort that has gone into producing this really nutritious commodity, it's just totally treated with no value whatsoever".
According to BFREPA, only two retailers had acknowledged its request for a price hike, while none had thus far implemented an increase, in what the dismissed as putting "cheap food marketing tactics above the needs of the primary producer".
"There are clear and obvious cost increases being heaped upon farmers, and retailers simply aren't sufficiently adjusting the retail price," said Gooch, who claimed that retailers were "suffocating businesses."
His warnings follow concerns raised last week that the impact of the bird flu crisis was worsening what Tonks described as "an already tenuous situation" for the egg sector.