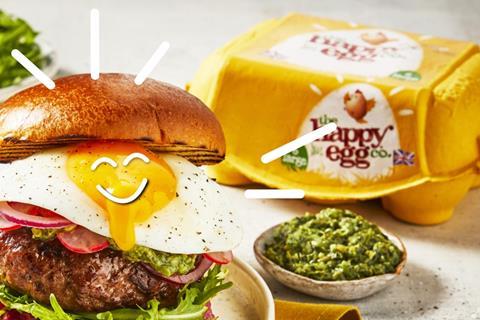 Happy Egg Co owner Noble Foods fell to a £30m loss last year following a "challenging" trading period, latest accounts have shown.
Results posted at Companies House for Noble's main shell egg business revealed year-on-year turnover dropped by 9.5% to £282.7m for the 52 weeks to 1 October 2021.
Operating losses grew from just under £2m the previous year to £32.6m, while losses after tax rose from £4.9m the previous year to £30.3m.
The slump in sales and profitability was down to a combination of the revaluation of property and the impact of a "significant oversupply of eggs in a competitive marketplace", said the supplier, which sold posh pudding brand Gü from the wider Noble Group in September 2020.
Egg sales had soared at the start of the coronavirus pandemic in spring 2020, driven by panic-buying. Volumes were almost 20% higher than pre-pandemic levels, according to Kantar figures for the 52 weeks to 21 March 2021.
It meant egg consumption grew by an average of three million eggs a day to about 22 million, said the British Egg Industry Council.
So high was demand by the summer of 2020 that Sainsbury's resorted to sourcing additional eggs from Spain and Italy in July of that year, following a move by Lidl to stock Dutch eggs in May 2020 – in a major departure from the policy of major British supermarkets of Sourcing primarily UK-produced eggs.
The Noble Foods financial period started a few months after this boom in egg sales. A spokesman said the slump in sales indicated a "softening" of consumer demand as the market returned to pre-pandemic levels.
Noble had also faced "one-off costs" to "streamline our business, including the planned acceleration of our exit from colony egg production", he added.