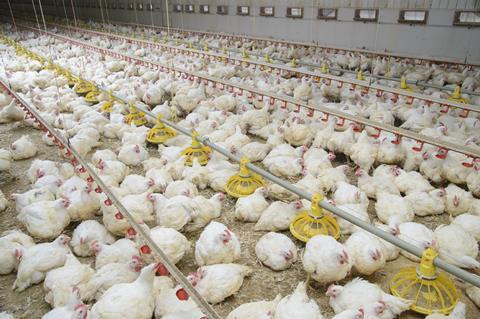 Producing meat from slower-growing chickens can significantly reduce mortality and the need to cull birds due to disease, while also improving quality, according to new research from the RSPCA.
Up to 49% of faster-growing birds could die or should be culled due to welfare issues such as lameness, according to a study for the charity by Scotland's Rural College. This compared with a lameness figure of 16% for slower-growing birds.
The research also found that faster-growing breeds were almost eight times more likely to have fatty deposits on their breast meat – known as 'white striping' – in comparison to slower-growing breeds.
Meanwhile, they were 23 times more likely to suffer a condition known as wooden breast – where breast muscle cells die off.
Indoor-reared chicken accounts for 95.5% of the UK's total chicken population according to the latest British Poultry Council data. All of these birds are from fast-growing breeds according to RSPCA..
"This new research shows conventional production with fast-growing breeds is potentially very wasteful, with farmers facing the loss of up to nearly half of their flock due to increased mortality and culling for poor leg health," said RSPCA chicken welfare specialist Kate Parkes.
"However, birds with poor leg health are not always culled, and meat with white striping and wooden breast is still sold to consumers. Therefore, the cost of 'standard' chicken meat is being kept artificially low due to some of these issues not being adequately addressed."
Parke added the RSPCA was pleased the government had sought to link farm support payments with better welfare standards in its agriculture bill.
It comes as a separate report by the Eating Better coalition last week warned modern chickens were fattier and carried fewer nutrients.
The 'We need to talk about chicken' report claimed the fat content of chicken had increased from 8.6g of fat per 100g in 1970 to 22.8g of fat in 2004. Chicken now offered 69% less iron than in 1940 and five times less omega-3 than in 1970, it added.
It also focused on the carbon footprint of chicken, claiming 75% of emissions arising from poultry production came from its feed supply chain. The report alleged more than half of the soy used in chicken feed had not been certified deforestation-free.